The 8.3-magnitude tremor was centred off the coast, about 144 miles (232km) north-west of the capital.
Five people are now known to have died, and one million residents have been evacuated from coastal areas. There were reports of panic in some cities.
The earthquake produced waves of up to 4.5m (15ft) along the coast in the region of Coquimbo.
The tremor struck at 19:54 local time (22:54 GMT), about 55km west of the city of Illapel, the US Geological Survey said.
Officials said it was at the depth of about 10km (six miles).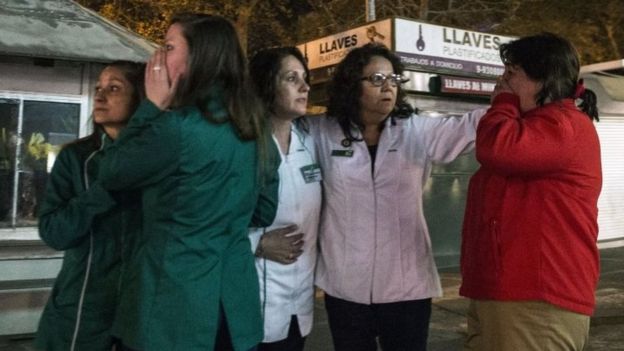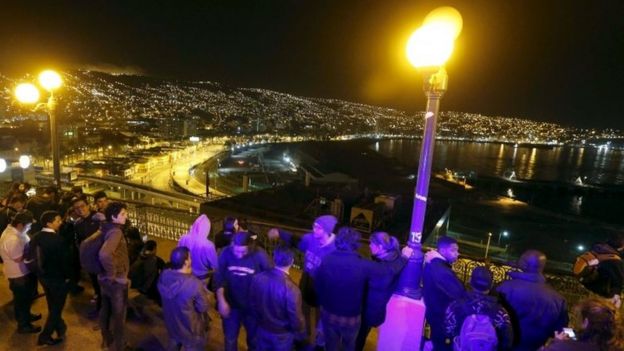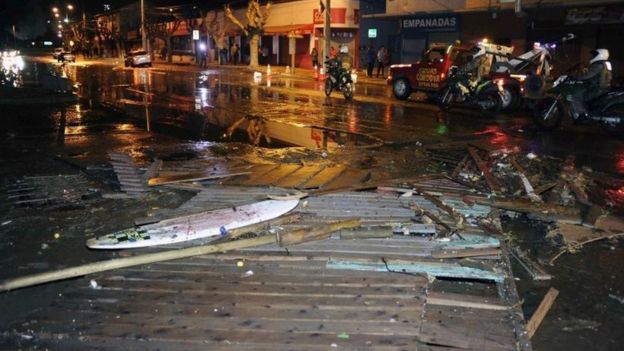 Several strong aftershocks were reported just minutes later.
Addressing the nation live on TV, Chilean President Michelle Bachelet confirmed that two women were killed after rubble fell down on them and a man died of a heart attack.
Ms Bachelet said she would travel to the affected areas later on Thursday.
The authorities later raised the confirmed death toll to five, saying that one person was missing.
Some homes were reportedly damaged in the city of Illapel.
The earthquake struck as thousands of Chileans were travelling to the coast ahead of a week of celebrations of the national holidays, or Fiestas Patrias.
Tsunami alerts were also issued for Peru, Hawaii, parts of California and as far away as New Zealand.
New Zealand authorities warned of unusually strong currents and unpredictable water flows, reported local media. At least one school has evacuated.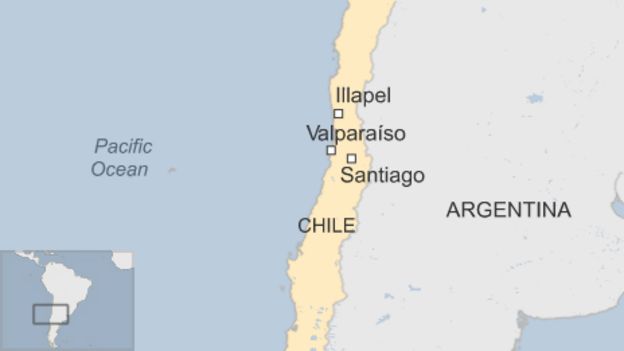 The quake was also strongly felt in some Argentine provinces like Mendoza and in the capital Buenos Aires several buildings were evacuated, the BBC's Ignacio de los Reyes reports.
Chile is one of the most seismically active locations on the globe.
It runs along the boundary between the Nazca and South American tectonic plates. These are vast slabs of the Earth's surface that grind past each other at a rate of up to 80mm per year.
In February 2010, a 8.8-magnitude struck off central Chile, killing more than 500 people.
Source: http://www.bbc.com/news/world-latin-america-34275783