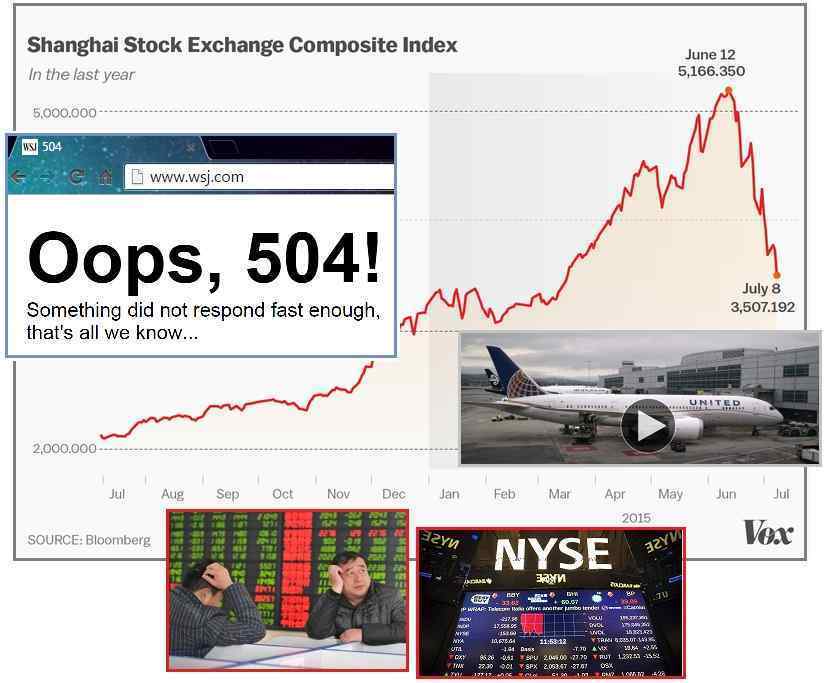 Are the computer glitches experienced by United Airlines, NYSE, and WSJ part of the Elites slowing down the crash of the markets before the announcement? [and from another] May I ask the Zetas of these two events are linked? NYSE and United both both described as "glitches" Is this an example of the Council of Worlds turning the screw? Or is this even EMP related? [and from another] http://www.abc.net.au/news/2015-07-03/panic-on-chinas-share-market-...  The main index, the Shanghai Composite, has plunged by 30 per cent since its peak in the middle of June, the biggest three-week fall in more than 20 years. The big rise on Chinese share markets over the past year has been driven by the popularity of margin loans in China, loans taken out by investors to buy shares, a move encouraged by the Chinese government to develop equity markets. Traders are now calling in some of those loans because of fears that stocks are overvalued. [and from another] http://www.vox.com/2015/7/7/8910293/china-stock-market-crash  More than 1,400 companies — representing a majority of all companies traded on the mainland's two major exchanges — have halted trading in an effort to stop the previous days' slide. The amount of officially sanctioned margin trading in the Chinese stock market ballooned from 403 billion yuan to 2.2 trillion yuan. Experts estimated that another 2 trillion yuan or so of borrowed money has flowed into the markets using vehicles designed to skirt official limits on margin trading. The government cracked down on vehicles designed to skirt the margin trading rules in April. The government's toughest measures came on June 12, when China's securities regulator announced a new limit on the total amount of margin lending stock brokers could do, while also reiterating the curbs on illicit margin trading. The stock market has been in freefall ever since. [and from another] http://ksnt.com/2015/07/08/nyse-resumes-trading-following-outage-of...  Trading has resumed on the New York Stock Exchange after an outage of more than three hours caused by technical problems. As of 2:51 pm Eastern time, nearly three and half hours after the outage started, trading had not yet resumed on the NYSE. There was no interruption at the dozens of other U.S. stock exchanges, including the Nasdaq, so investors were still able to buy and sell stocks easily. The market was already lower as traders worried about China's failure to halt a plunge in its shares and talks remained stuck between Greece and its lenders. [and from another] http://www.washingtonpost.com/local/trafficandcommuting/faa-says-al...  Stranded passengers are probably wondering why United had to ask the Federal Aviation Administration to abruptly ground all its planes at 8 am and kept them grounded until 9:49 am - an almost two-hour delay that grounded 4,900 flights worldwide and caused big delays in United hubs in Chicago, Denver and Houston. The airline said a router malfunction was to blame, but it wouldn't elaborate. [and from another]http://www.mirror.co.uk/news/technology-science/technology/anonymou...  A malevolent tweet from the hacker collective Anonymous seems to hint at something more sinister. "Wonder if tomorrow is going to be bad for Wall Street.... we can only hope." 10:45 PM - 7 Jul 2015 [and from another] http://www.cnbc.com/id/102806720  Homeland Security Secretary Jeh Johnson noted the glitch that caused the trading halt and an earlier computer problem that grounded United Airlines flights appeared unrelated. On Tuesday, hacker group Anonymous tweeted a suspicious statement about potential problems on Wall Street. Separately on Wednesday, The Wall Street Journal website experienced an apparent outage that was resolved by roughly 1 pm ET. [and from another] http://www.techzone360.com/topics/techzone/articles/2015/07/08/4063...  The New York Stock Exchange (NYSE) suspended trading today at 11:32am ET due to a "technology glitch". Investors can still perform trades, just not on the NYSE. Around the same time as the NYSE shutdown, the Wall Street Journal began experiencing technical issues. When attempting to access WSJ.com, the Wall Street Journal Homepage, resulted in a 504 message. The third incident from today was an apparent "automation glitch" that caused United Airlines to ground flights for an hour. The International Business Times has reported the Wall Street Journal outage was due to slow server activity in processing HTTP requests. The 504 error that visitors were receiving was a result. United Airlines blames its grounded flights on what it calls a "router malfunction."
China is considered the world's strongest economy at present, and its newly affluent citizens are doing more than buying cars and electronics. They are playing the stock market. In a country not familiar with capitalist gambling markets, China is still establishing controls. Its recent bursting bubble, wherein their stock market lost 30% within weeks, is a learning curve and not a fatal blow. Such market crashes are familiar to the West, from the 1929 crash to the more recent 2008 housing bubble crash on Wall Street. Was the shutdown of the NYSE a reaction, a protective maneuver known as Plunge Protection? Yes, despite claims that it was a computer crash. Panic trading is stopped in these instances. 

What raised eyebrows was the apparent nexus in timing for other outages. United Airlines halted all flights earlier in the day for two hours, claiming a computer glitch. The Wall Street Journal crashed, simultaneous to the NYSE down time, reportedly due to the rush of the public to read the latest during the market closures. If a DDOS attack can disable a server, certainly a rush by the public can create delayed service, but is there more to this story? Amid all this was a tweet from Anonymous suggesting on July 7 that Wall Street will have a bad day on July 8, which then resulted. 

Though seemingly separate issues, these well publicized outages not only have a common nexus, they were caused by the same hand. As we stated after the elite caused Obama to miss his October 20, 2014 date for the announcement, the Council of Worlds has gone to war with the elite.  We have stated that this war has been won and the announcement will now proceed, but given the nature of the Service-to-Self individuals prevalent among the elite, they are being given some last minute reminders on just who won this war. They should not expect to recoup or rally. The sudden demise of a Space X shuttle to the ISS, after many successes, was such a reminder to Elon Musk and his cronies. 

China is a partner during Obama's announcement, but the China stock market was clearly headed for an adjustment, and thus the timing of the Council's warming. Speculators in China will be reined in sharply by China, unlike the criminals on Wall Street who were never really disciplined after the Wall Street crash in 2008. Margin traders in China, hedge funds on Wall Street, deceptive derivative packages by mortgage bundlers, and the hallmark symbols of these crimes the NYSE and the Wall Street Journal. Anonymous of course is a human working closely with the Council on these matters. 

What did the down time for United Airlines have to do with this sharp warning to Wall Street and wealthy speculators worldwide? The United downtime occurred the same day, but earlier in the day. The elite, who dearly want to prevent Obama from making his announcement, rely on modern day electronics to enhance their wealth. Beyond being able to make transactions around the world in a blink of an eye, the symbol of their elevation to the status of gods, in their eyes, is air travel. They can cross borders, evade prosecution, go to pleasant climates, and no one can stop them. Please note, this can be stopped with a wink of the Council's eye.