Draft Newsletter for Sunday May 21, 2017. Newsletters can be found in the Archives by Friday, also. http://www.zetatalk.com/newsletr/index.htm
---
Comey's Dilemma

Former FBI Director Comey was a man caught in the cross hairs during the 2016 election. First, Dunford was in charge of the US government, so the assumption that DOJ's Loretta Lynch or President Obama were above Comey in the chain of command was fuzzy. Second, Comey could see, after the 20 minute impromptu meeting between Bill Clinton and Lynch on the tarmac, that the DOJ had no intention of prosecuting Hillary. Third, per the Zetas, a plea deal  
http://www.zetatalk.com/newsletr/issue511.htm
to get Hillary to drop out of the race was in play, and closing the email investigation was a card on the table. Fourth, no Grand Jury was going to be seated as Dunford was prosecuting Hillary via secret military courts. So how was the public to know of Hillary's crimes?


ZetaTalk Insight 7/9/2016:
http://www.zetatalk.com/ning/09jy2016.htm
What is to be made of Comey's statements on July 5th, declining to recommend prosecution of Hillary over her homebrew email server setup? Notably missing during his very detailed explanation of the FBI process in this matter was any mention of the Clinton Foundation, which is under investigation for public corruption, a situation where a public official sells public assets for personal gain. There are two investigations that emerged as a result of the FBI confiscation of email scraps and deleted email on Hillary's homebrew server. Only the server setup was addressed on July 5th by Comey.

Comey broke tradition to hold a press conference admitting Hillary's crimes while framing them as bad judgement and saying he was closing the investigation. FBI agents who had collected the evidence against Hillary were more than disappointed. Democrats were furious and calling for Comey's head. This is of record,
https://youtu.be/gAUFqVMBJus
as most of these temper tantrums were on camera for the evening news.  Of course, Comey could later also say nothing about the wealth of pedophilia data recovered from Weiner's laptop, as this was an ongoing investigation. So all he could do was, once again, remind the public that Hillary was phenomenally careless.  


Trump Tweets Video of Dems Calling for Comey's Ouster
May 11, 2017
https://www.infowars.com/trump-tweets-video-of-dems-calling-for-com...
President Trump trolled Democrats yet again by tweeting out a video of numerous liberals calling for Comey's ouster weeks before. The video begins with Sen. Bernie Sanders (I-Vt.) lambasting Comey for sabotaging Hillary Clinton after he reopened the investigation into her emails. The video continues with former Sen. Harry Reid (D-NV) being asked on MSNBC if he would like to see Comey fired. "Of course," Reid replied. Sen. Chris Murphy and Clinton campaign manager Robby Mook also remarked that they would like to see Comey step down. Liberal darling Rep. Maxine Waters (D-Calif.) is seen next explaining at a conference her disdain for Comey. "All I can tell you is the FBI Director has no credibility," Waters said. The video rolls on with Sen. Patrick Leahy, The Wall Street Journal, former Attorney General Michael Mukasey, and even MSNBC host Chuck Todd acknowledging the damage Comey inflicted to the American people's confidence in the FBI.  The video even shows quotes from House Minority Leaders Chuck Shumer (D-NY) and Nancy Pelosi (D-Calif.) tearing into Comey, saying that "maybe he's not right for the job," and that they "do not have confidence in him any longer."
 
The Democrats turned their fury to spreading unfounded stories about collusion between Trump and Russia. After months of investigation by multiple agencies no evidence has been found. Hillary was the one who sold 20% of US Uranium rights to the Russians when she was Secretary of State, a matter of record. This in exchange for a generous contribution to the Clinton Foundation where 95% of all funds went directly to the Clintons. But the Democrats persisted. Comey began to look like a Hillary hugger, by closing the email investigations, by having McCabe as second in command when McCabe's wife took huge funds from the Hillary camp, and by being appointed by Obama in 2013.

FISAgate and Russia: Comey and Nunes Stir the Muddy Waters
March 23, 2017
http://www.nationalreview.com/article/446024/devin-nunes-fbi-direct...
Shortly after FBI director James Comey testified that there was no evidence to support President Trump's tweeted claim that President Obama had him wiretapped at Trump Tower, House Intelligence Committee chairman Devin Nunes disclosed what is being regarded as "bombshell" news that members of the Trump transition team, potentially including then-president-elect Trump himself, were "monitored" by U.S. intelligence agencies.

The FBI Investigated a Trump Server in its Russia Probe, but no Charges are Expected
March 8, 2017
http://circa.com/politics/fbi-probe-of-donald-trump-and-russia-duri...
The months-long FBI counterintelligence investigation into Russian efforts to influence the 2016 presidential campaign briefly investigated a computer server tied to Donald Trump's businesses near the end of the election but has not gathered evidence of election tampering to date that would warrant criminal charges against any of the president's associates, Circa has learned.

Still No Evidence of Collusion Between Russia and Trump Administration
May 8, 2017
http://www.breitbart.com/big-government/2017/05/08/still-no-evidenc...
Over 100 days into Donald Trump's presidency, there still remains no evidence of collusion between his administration and Russian agents, despite mainstream media reports to the contrary. Last month, Clapper told NBC that the agency's investigations had yielded no such evidence. Meanwhile, former Acting Attorney General Sally Yates failed to offer any evidence of collusion with between the two parties. Chairman of the U.S. congressional committee on intelligence Rep. Devin Nunes also said he had seen "no evidence of collusion" based on the evidence he heard.

Meanwhile, Comey rubbed Trump the wrong way. Where there was unfolding evidence that the Obama administration had indeed wiretapped and snooped on Trump Tower and the Trump campaign, Comey described Trump in private conversations as "crazy". Per the Zetas, Comey was seen as a wild card, stepping outside of his purview, not able to handle a situation where the military was in charge and secret military courts were settling matters. What will the outcome be? The Zetas predict that public trials of Hillary's server problems may be used to shift the focus.
Why James Comey Had to Go
May 9, 2017
http://nypost.com/2017/05/09/why-james-comey-had-to-go/
The names of those supposedly being investigated — Gen. Michael Flynn, Paul Manafort, Carter Page — were all made public through leaks. We know a computer server for Trump Tower was communicating with a Russian bank — because of leaks. Not incidentally, Hillary Clinton jumped on those leaks to insist Trump was guilty of collusion. Only later did we learn — through leaks — that the FBI determined the server was sending spam.

Comey called Trump 'crazy' after Obama Wiretapping Claims
May 10, 2017
http://thehill.com/policy/national-security/fbi/332882-comey-called...
Former FBI Director James Comey reportedly told associates in March that President Trump was "crazy" for suggesting former President Obama had wiretapped him. Comey also called the president "outside the realm of normal".

ZetaTalk Insight 5/13/2017:
http://www.zetatalk.com/ning/13ma2017.htm
Why was Comey fired? The Democrats scream that Trump was trying to deflect and influence an investigation into Russian interference in the 2016 campaign. Recent hearings on the supposed Russian influence have not brought forth proof of any Trump wrongdoing, but rather proof that the Obama administration, in support of Hillary, used National Security excuses to go on extensive fishing expeditions, looking for connections. They found no Trump wrongdoing, but did find that Trump was correct in his tweets – FISA courts were used. Comey, notably, protested loudly that this fact should not be revealed to the public.  

The Republicans focused on the motive for Comey's dismissal being due to Comey abortively closing the investigation into Hillary's homebrew server last July, a motive laid out in the Comey dismissal letter. Comey had been appointed by Obama in 2013, and had a Deputy, McCabe, whose wife accepted close to a million dollars in campaign funds from Hillary associated sources, so had a taint in this matter. Where Comey laid out the problems with Hillary's homebrew server arrangement, describing Hillary's crimes as "careless" rather than criminal, he aborted the investigation, at least publically.

As we stated last July,  
http://www.zetatalk.com/newsletr/issue511.htm
a plea deal for Hillary was in process at that time. Massive money laundering with the Clinton Foundation funds had been uncovered, and was being prosecuted by Dunford's secret military courts. Since the matter of Dunford being in charge was to be kept secret, the Clinton Foundation prosecution likewise had to remain secret. Hillary was eventually placed under house arrest, still her current status, and prevented from escaping to Qatar.
http://www.zetatalk.com/newsletr/issue527.htm
Meanwhile, Comey struggled to relay the facts to the public, as Hillary was still on the ballot, chosing to reopen the email investigation a week before the election due to Weiner's laptop.

Comey has thus struggled with divided loyalties, wanting to protect the FBI's image and the fact that Obama used the FISA courts to fish for dirt on Trump, while cooperating with Dunford's secret courts behind the scenes. Does this not make him one of the good guys? During all of this maneuvering, he lost the respect of the field agents who wanted Hillary prosecuted. He also proceeded on his own during the July press conference, thus is now considered a wild card, not a team player.

The Trump administration just had public testimony on the Russian influence matter, now of record, and secured confirmation of appointee Rosenstein. Replacing Comey had always been planned, but confirming Trump appointments had to precede a termination. What of Hillary? Will her handling of her homebrew server be reopened, and prosecuted? This is highly likely, in part so that the public will focus again on her crimes, rather than hypothetical Russian influence crimes touted by the Republicans.
---
Syrian Refugees Returned

The Zetas have often mentioned a solution to the influx of Syrian refugees into Europe. They should be returned to Syria, to safe zones established by the coalition fighting ISIS. This seems to be in process now under a "Safe Zone" discussion recently in the press. This zone would be in Syrian territory, a narrow strip of land close to the Mediterranean. This zone also avoids any region where the fighting with ISIS is currently hot, and avoids the conflicts between the Kurds and Turkey too.


Russian & US Top Brass Discuss Plan for Syrian Safe Zones
May 6, 2017
https://www.rt.com/news/387368-syria-safe-zones-discussion/
Under the plan, Damascus and these groups have agreed not to engage in hostilities with each other in those safe zones. The safe zones have been established in Syria's Idlib Governorate and parts of neighboring Latakia, Aleppo and Hama provinces, the northern part of Homs province, Damascus' Eastern Ghouta neighborhood, and parts of southern Deraa and Quneitra provinces that border on Jordan.

Memorandum on the Creation of De-escalation areas in the Syrian Arab Republic
May 6, 2017
http://www.mid.ru/ru/foreign_policy/news/-/asset_publisher/cKNonkJE...
The Islamic Republic of Iran, the Russian Federation and the Republic of Turkey as guarantors of the observance of the ceasefire regime in the Syrian Arab Republic, guided by the provisions of UNSC resolution 2254 (2015) have agreed on the following: rapid, safe and unhindered humanitarian access shall be provided;  conditions to deliver medical aid to local population and to meet basic needs of civilians shall be created; measures to restore basic infrastructure facilities, starting with water supply and electricity distribution networks, shall be taken; conditions for the safe and voluntary return of refugees and internally displaced persons shall be created.

ZetaTalk Comment 1/2/2016:
http://www.zetatalk.com/ning/02ja2016.htm
By combating ISIS aggressively in Syria, Putin is likewise making Syria safe again for the refugees fleeing by the millions. Syria will not be flooded in the Aftertime, and will in fact be a better place than much of Europe which will suffer flooding.

ZetaTalk Comment 3/19/2016
http://www.zetatalk.com/ning/19mr2016.htm
The fight against ISIS will not slack off, and the plan to return Syrian refugees will pick up steam.

ZetaTalk Comment 4/8/2017
http://www.zetatalk.com/ning/08ap2017.htm
It has always been admitted by Putin that after ISIS is defeated, that Assad must go. The US had recently acknowledged that Assad was necessary until ISIS was defeated. Then all the Syrian refugees could return home, Erdogan be dealt with more firmly, and Syrian elections held.

It appears that Germany cannot wait. Despite Merkel's hand
http://www.christ-michael.org/das-gesicht-des-antichristen/
on the refugee crisis, cooperating with Erdogan on their power play
http://www.zetatalk.com/ning/01oc2016.htm
to take control of Europe via the influx of refugees, the German citizens have had enough of the problems these refugees brought – crime, rape, and demands for Sharia laws. They cannot wait for Safe Zones in Syria, apparently. Problem teens are being shipped to Morocco!


Germany to Build Centers in Morocco to Deport Underage Refugees
May 8, 2017
https://www.rt.com/news/387540-germany-refugee-minors-morocco/
The German Federal Agency for Migration and Refugees (BAMF) plans to establish two reception centers in Morocco to which it can deport unaccompanied refugee minors that commit crimes in Germany. Each of the first two centers would have the capacity to host up to 100 underage refugees and provide them with necessary medical care, as well as offer schooling and some vocational training.  At the moment, minors can only be deported if they are put under the care of a legal guardian – that is, if the parents are standing at the airport to pick them up.

Germany's Migrant Rape Crisis
February 13, 2017
https://www.gatestoneinstitute.org/9934/germany-rape-january
The actual number of migrant-related sex crimes in Germany is at least two or three times higher than the official number. Only 10% of the sex crimes committed in Germany appear in the official statistics. German authorities have repeatedly been accused of underreporting the true scale of the migrant crime problem in the country.

Germany sees Rise in Crime Committed by Asylum Seekers
April 24, 2017
https://www.ft.com/content/b5a8867e-28ea-11e7-bc4b-5528796fe35c
Figures released by the interior ministry showed that some 174,000 immigrants from non-EU countries were suspected of carrying out crimes last year, a 52 per cent increase on 2015. Germany has admitted more than 1m refugees since 2015, many of them fleeing civil war in Syria.

ZetaTalk Comment 10/1/2016:
http://www.zetatalk.com/ning/01oc2016.htm
Merkel has been an aggressive proponent of bringing in Syrian refugees, who seem to be disproportionately young men rather than complete families with women and young children and the aged. This begs the question, why did these young men desert their families? The suggestion made by this German engineer, in his deathbed confession, is that this refugee welcome is deliberate, to sculpt the population into a worker force rather than a citizen base demanding social services. The refugee influx into Europe has proved to be a disaster, with an aggressive counter push to keep refugees in their homeland, to be resettled there. Was this Merkel's plan, and has it failed? Yes.
---
UFO vs Tornado

On April 26, 2017 a weathercam in Oklahoma
https://youtu.be/HQHYGR5TJUM
caught UFO's in the process of breaking up a tornado. The dark clouds overhead were just the sort that form funnel clouds, and the weather conditions just right. The weatherman was unaware, as the focus was on the storm clouds, not on the little dark UFO's zipping about, leaving bursts of light and then white clouds in their trail. During the 25 seconds that passed, the sky under the dark clouds was noticeably changed! Debate on forums ranged from fireflies to water drops on the windshield to UFO thruster technology.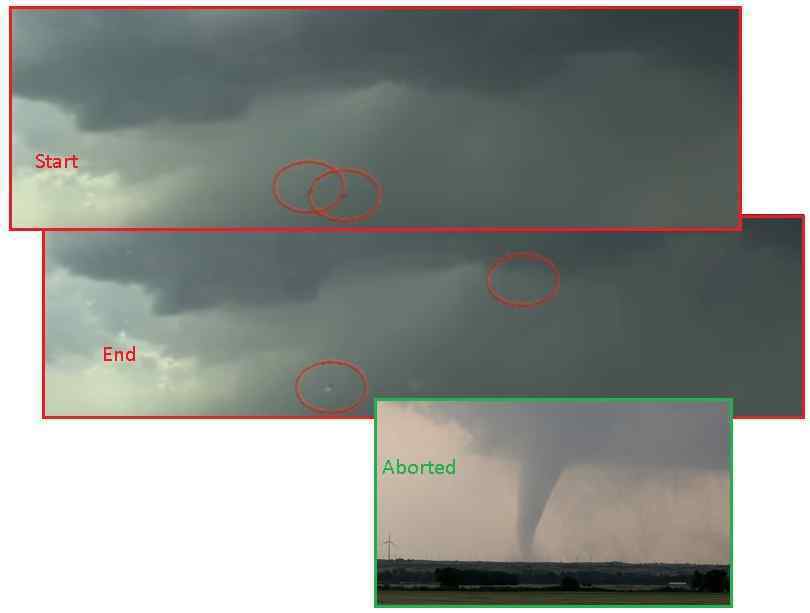 UFO's Caught Maneuvering under Rainclouds
April 26, 2017
https://www.reddit.com/r/aliens/comments/68451a/waterbased_ufos_26417/
Those crafts are using the extra generated energy (charged particles) that is stored in the clouds and somehow creating a low voltage point to draw in the energy, that's why you see these "thruster" like effects which infact are arching electricity.

Stormchaser UFOs
April 26, 2017
https://www.reddit.com/r/UFOs/comments/67pnur/stormchaser_ufos/
We get tons of lightning (firefly) bugs during warm afternoons/evenings.  But it was a chilly day today across Oklahoma. I know here in OKC was mid 50's and I'd assume the same for Stillwater. If it was bugs, the part emitting the light would have been dark in contrast to the background when it wasn't lighting up. In this case it's the space behind the objects lighting up in a flare. The "flare"/thrust component is certainly a little hard to explain and how fast one of the object zooms off.

How do Tornadoes Form
https://www.universetoday.com/75695/how-do-tornadoes-form/
The cold air drops as the warm air rises. The warm air eventually twists into a spiral and forms the funnel cloud that we all associate with a tornado.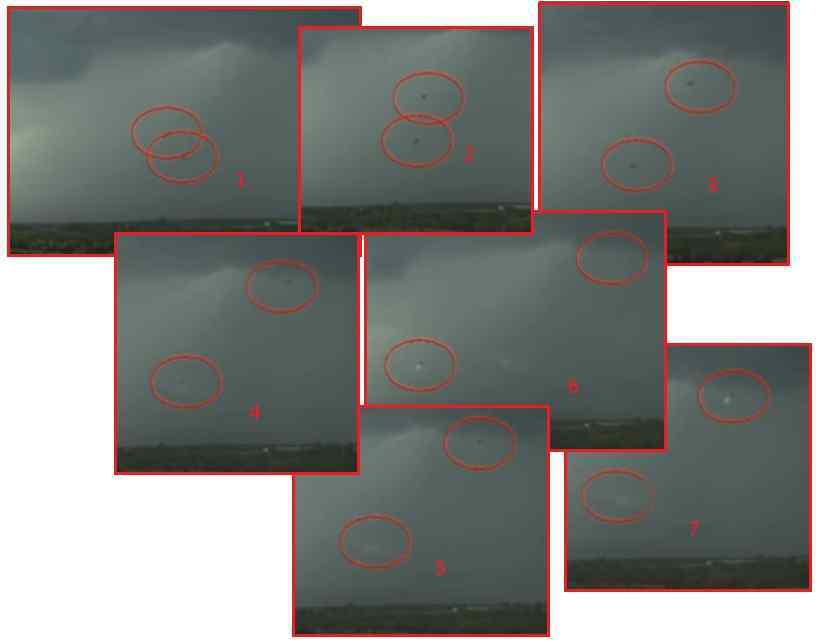 ZetaTalk Explanation 5/13/2017:
http://www.zetatalk.com/ning/13ma2017.htm
The moving UFO's captured on this weather cam are not gnats or fireflies, despite the association with a lighted cloud area near the dark dot on occasion. Note that the light area lingers, where a firefly would only record a momentary blink of light on the camera. Nor is the lit area showing, as some theorized, a UFO thrust, as though a propellant were the power source. The lit area falls behind the moving UFO as the UFO has changed the cloud composition there. As was noted in October, 2016 when UFO's were captured breaking up chemtrails, a UFO can change the composition of a cloud.

What are the dynamics in place just prior to a tornado funnel cloud?  Temperature differences, with colder (heavier) air above a warm (less dense) air layer. The cold air drops creating a void for the light air to rise.  As all rapidly moving water or air masses do on the face of the globe, this rising air starts to rotate. To abort a tornado, one must change the temperature or density of the air, which is what the UFO's are doing here. There are of course more UFO's involved, in the dark clouds, but their activity cannot be seen.  

Indeed, UFOs were caught on camera breaking up chemtrails last October, 2016. Unlike the efforts to break up a pending tornado, where the UFO activity was understated, the chemtrail breakup seemed to be a pointed display with a message to mankind. The Zetas explain.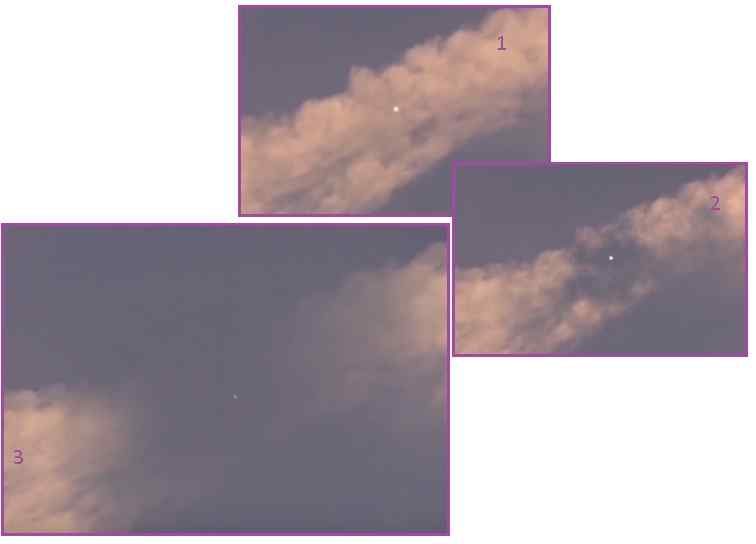 ZetaTalk Insight 10/29/2016:
http://www.zetatalk.com/ning/29oc2016.htm
This is a valid video, and indeed a UFO disbursing chemtrails. This demonstration was done for several reasons. One was to register support for the public who had been furious about having their view of Nibiru blocked, lo these many years. The second was to show the public that the chemtrail haze could be disbursed in an instant by UFO's. The Council of Worlds wants the public to be aware of the presence of Nibiru, and the pending passage, so they can make their spiritual choices, take action, prior to potentially dying in the Pole Shift. What would worldwide visibility of Nibiru bring, if suddenly made possible?