Taken from: http://zetatalk.com/index/blog1128.htm

Contactee Participation

Many contactees, women, report visitations where babies are placed in their arms, babies they understand to be theirs.
There are emotions of love and anguish as the babies are taken back.

Other women report times when they are sure they are pregnant, the pregnancy even confirmed at the doctors office, then disappearing.
This is often presented, particularly by Budd Hopkins, as a traumatic event, abduction and forced pregnancy with removal of the fetus.
But the accounts belive this, as why present a baby later, for a loving contact?
I, Nancy, participated in the development of Zeta-Human hybrids during my teens and early twenties, recalled under hypnosis.
And I quote:
If this is what a female contactee, who agrees to participate in the development of a Zeta-Human hybrid, what does a male contactee experience?
Why and When

Why is a Zeta-Human hybrid being created at this time?
Does it relate to the coming pole shift, the expectation that 90% of humankind will die as a result?
Does it relate to the Transformation, when the Earth is scheduled to become a home for those souls having chosen a Service-to-Other spiritual orientation?
And has this occurred before, to man?
OK, so we'd be making our next leap forward regardless of a pole shift.
But the fact that many souls will be ready for an incarnation after a 90% die-off is a factor.
So what's going to happen?
Will the human race die out, like Neanderthal man?
Full-blood Zetas will not die out, as their worlds are not scheduled for a next leap forward, but in time, a full-blood human will be a rare item.
So the main reason for the die-out of the human race is because Service-to-Other communities will want to live communally with the hybrids and Zetas.
But what of the Service-to-Self humans?
But, per the Zetas, sometimes those human are taken away to their new prison colony homes AHEAD of an Earthly death.

What then, can they breed on as humans there?
So, perhaps like Bigfoot, full-blood humans may be around here and there.
But in the main, an endangered species.
Genetic Engineering

So what goes, during a genetic engineering project such as the Zeta-Human hybrid creation?
Do we just mix sperm and ova together, from both sets of parents, and hope for the best?
Hardly.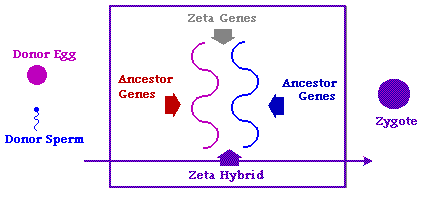 So, we're snipping out genetic diseases?
Sounds tricky, as if the disease is also related to a valued trait, like immunity itself vs auto-immune diseases, that snipping could be tricky.
And then there are the recessive traits, which don't necessarily present themselves as something needing to be snipped.
They hide.
Other than genetic diseases, what else is getting snipped out from the human contribution?
Or perhaps included as a valued asset.
And what are the primary Zeta traits to be included?
IQ for one!
Emotions and Sex

If human emotions are a valued trait, to be included, is this missing in the Zeta?
How do the Zetas compare to humans on these negative emotions? We do not go on power trips, nor do we miss this emotional trip.

So just why DO the Zetas have a more blunted emotional life than humans?
Per the Zetas, this is due to our differing evolution.
But appearances can be deceiving, and the serious Zetas, appearing in a group and working closely are not like insects in a hive, a group mind, as some disinformation asserts.
Resentment

So what are the emotions of humans, regarding the development of a Zeta-Human hybrid race, and being phased out as a race altogether, in all likelihood?
Some humans are distinctly hostile.
First, there is the issue of custody rights.
In fact, participants most often have a pre-birth agreement to participate.
the soul wishing to participate in the hybrid program.
Hardly something forced upon them!
So custody arrangements are not something the human participant would be hostile about.
The need for the pre-birth agreements is due to the need to follow family lines.
Something the Zetas describe as weaving genetics, to pull forward desired traits, strengthen them, and ensure that missing pieces can be recovered.
Another point of hostility is that human are not in charge.
This hostility, again, does not come from the participants, but from other humans in general resenting the alien presence.
I get email on this all the time, from resentful humans, who claim the Earth is theirs and aliens should just go away.
They forget how it is that they came to be, and are not still dumb apes swinging on trees!
But nevertheless, this not being a logical argument, hostility among many humans toward the hybrid programs is quick and hot.
Introductions

As a participant in the hybrid program, I was given the opportunity to meet with one of my offspring.
This occurred before I had children of my own, but I babysat a lot so was familiar with how they behave.
I was 19, he appeared to be about 3, so from ova I contributed at about the age of 16, I gather.

Here's the story.
Where does he live today?
Distance is not a matter for those who have mastered space travel.

And one day soon, after the pole shift, they will just teleport in, dome cities and all!
Physiology

So what can we expect, when reincarnating into those new hybrid bodies?

Emotions, similar sex life to what we have now, high IQ.

Anything else?
Longer life span, for one thing.
But the good news is, no more farting!
Were there things the engineers wanted to change, but could not?
Were there any failures?
Yuck. Good things the souls incarnating into these proto-hybrids were volunteers, doing service by being able to report on what life was like, inside there!
But by the mid 90's, they had arrived!