https://www.researchgate.net/figure/Land-subsidence-in-Jakarta-duri...
In recent years, the media has again begun to talk about the problem of rising sea levels in Southeast Asia. However, now, they recognize that the underlying cause of this is primarily land subsidence. Although the main cause of subsidence is still called groundwater pumping and urbanization. They still do not say that this is a tectonic sinking.
Meanwhile, you can see how some parts of Jakarta have already lost several meters in height! (Image above)
The media is already forced to admit that sea levels are rising fastest in Southeast Asia. While in other parts of the world the situation remains quite stable. This can be clearly seen in the image below.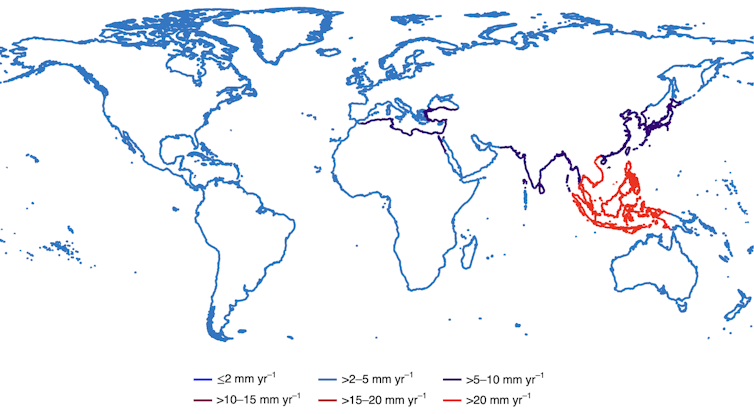 When weighted by population, relative sea level rise is worst in south east Asia, followed by south and east Asia, and the southern Mediterranean. Nicholls et al, CC BY-SA
https://theconversation.com/sea-levels-are-rising-fastest-in-big-ci...
A huge number of cities in Indonesia experience land subsidence of several centimeters per year.
https://www.intechopen.com/chapters/63411
Satellite imagery analysis also confirms the sinking of a vast number of land plots in Indonesia (yellow).
https://www.researchgate.net/figure/Spatial-planning-after-dike-con...
Satellite imagery shows that some as yet very small parts of Indonesia are already under water.
https://www.intechopen.com/chapters/63411
More and more fishermen are complaining about constant coastal flooding as a result of the tides.
16 August, 2022. In Sumatra, rising seas and sinking land spell hard times for fishers
Fishers operating near the port of Belawan on the Indonesian island of Sumatra are reporting declining catches and a hit to their livelihoods from tidal flooding.
The flooding has grown more frequent and severe, exacerbated by rising seas and the clearing of mangrove forests for oil palm plantations.
https://news.mongabay.com/2022/08/in-sumatra-rising-seas-and-sinkin.../
Across Asia, locals are complaining about the increasing intrusion of salt water that is ruining rice crops.
3 September, 2022. Rising Salinity Threatens Rice Crops on Southeast Asia's Sinking Coast
In Southeast Asia, saltwater threatens rice paddies in the Mekong River and Red River deltas in Vietnam, and the deltas of the Chao Phraya River in Thailand, and the Ayeyarwady River in Myanmar.
In South Asia, it degrades soils and taints drinking water in the densely populated Ganges–Brahmaputra Delta of Bangladesh and India and the Indus Delta of Pakistan. China's Yangtze River Delta also faces rising salinity.
https://www.voanews.com/a/rising-salinity-threatens-rice-crops-on-s...
And Indonesian authorities are increasingly recognizing the true cause of the floods.
31 May, 2022. Climate change, land subsidence trigger flooding in C Java: Ministry
A combination of climate change and land subsidence triggered flooding in the coastal area of the North Coast of Central Java on May 23, Geological Agency of the Energy and Mineral Resources Ministry stated.
Head of the Center for Groundwater and Environmental Geology, Rita Susilawati, stated on Tuesday that the subsidence of land was due to the characteristics of the soil and rocks caused by natural consolidation.
https://en.antaranews.com/news/231969/climate-change-land-subsidenc...
15 March, 2021. This city in Java could disappear in 15 years, due to land subsidence and coastal flooding
But since 2015, strong winds, high waves and land subsidence have been causing the coastline to advance further inland.
In December, a powerful storm surge swept across the village, causing severe erosion. Dozens of homes were claimed by the sea. Several families decided to move away, abandoning their permanently submerged houses.
https://www.channelnewsasia.com/climatechange/indonesia-pekalongan-...
3 June, 2022. Java Pantura's Land Subsidence up to 20cm per Year
The satellite data strengthened the previous studies such as one conducted by the Bandung Institute of Technology (ITB) research team. Head of the ITB's Geodetic Laboratory Heri Andreas said that the current rate of land subsidence in Semarang, Pekalongan, and Demak has reached 20 centimeters per year.
"This is the fastest land subsidence rate recorded in the world," Heri said on May 29, 2022.
https://en.tempo.co/read/1597858/brin-java-panturas-land-subsidence...
Meanwhile, the Indonesian authorities, in desperation, are moving the capital to another location.
30 October, 2022. Indonesia is still moving its capital to Nusantara despite rising public opposition
After a temporary pause due to the Coronavirus pandemic, Indonesia is continuing its long-term plan of moving its capital from Jakarta to a new location in East Kalimantan on the island of Borneo, also known as the IKN project. In a nearly unprecedented move, the Indonesian government is creating the city entirely from scratch and has cleared thousands of hectares of forests, fields, and grasslands to make way for the new city, which will be dubbed Nusantara. The first phase of development is scheduled to be completed by 2024 <...>
Jakarta is also facing immense climate pressures from rising sea levels, as 40 percent of the city is situated below sea level. To exacerbate the issue, the city is also sinking at a rate of 11 inches per year in some areas due to the overuse of underground aquifers below the city.
https://globalvoices.org/2022/10/30/indonesia-is-still-moving-its-c...