Earthquake data: United States Geological Survey [6], Delaware Geological Survey [7], Article [8] GIS data [14] D3.js code [16]
And again an abnormal earthquake struck the USA. This earthquake is very rare and officially the strongest in the history of the State of Delaware (Only an earthquake in 1871 had a magnitude of 4.1 but it was not documented instrumentally) Scientists have called this earthquake unusual:
"30 November, 2017. 'This is wild,' USGS says of Dover 4.1 earthquake
Seismograph in Bucks County picks up earthquake. Photo credit: Holland Middle School. Image source: nbcphiladelphia.com
A 4.1 magnitude earthquake struck Kent County late Thursday afternoon.
The quake struck about 7 miles northeast of Dover Air Force Base at 4:47 p.m., according to the U.S. Geological Survey. It was originally labeled magnitude 4.4 before the USGS lowered the scale of the temblor.
<...>
A geophysicist, Cheng Shengzao, with the USGS, said the East Coast quake was surprising. "This is wild. It's not often that this happens," Shengzao said." [8] - Delawareonline

And foxnews:
"Paul Caruso, a geophysicist with the USGS's earthquake information center in Colorado, said he didn't expect any significant damage from the small quake, which he described as unusual.
"I was talking with the other seismologists and we said, 'Wow, we don't ever remember a quake in Delaware," he said." [9] - foxnews

Earthquake data: United States Geological Survey [6], Delaware Geological Survey [7], D3.js [16]

It's worth mentioning that the (The Delaware Geological Survey catalog) 'catalog' means collected from various sources of information. It's obvious that an earthquake in 1871 with a magnitude of 4.1 could be much less and vice versa. In fact, many of these earthquakes were not recorded instrumentally (with seismograph and etc). So, officially, the current earthquake is considered the strongest recorded in the history of Delaware
Earthquake data: United States Geological Survey [6], D3.js [16]

Scientists can't understand what caused this rare earthquake:
"As for what exactly caused the earthquake, seismologists did not immediately know. Caruso said that will take some extra work on the part of regional geologists, or possibly the USGS, given that earthquakes in this part of the country are so rare.
All earthquakes occur on faults, but Caruso said he did not know the characteristics of the fault that caused Thursday's quake or if it even had a name.
The bedrock beneath this part of the country is relatively stable, settling over hundreds of millions of years — compared to the relatively young age, 28 million years, of the infamous San Andreas fault in Southern California" [2]

---
Did You Feel it?
Felt data: USGS [13] GIS data [14]
This earthquake was felt over wide area like in 2011. The quake was felt across the coastal Mid-Atlantic, including Washington, D.C., Baltimore, Philadelphia, and New York City. The quake was initially recorded as having a magnitude of 5.1. However, it was soon after downgraded to 4.4, then once again to 4.1. This caused suspicion and the media immediately began to find excuses:

"1 December, 2017. Here's why early magnitude estimates for the Delaware earthquake were shaky
Image source: National Earthquake Information Center (NEIC)
When a fault beneath Delaware slipped and triggered an earthquake felt for hundreds of miles Thursday afternoon, a computer decided it was magnitude 5.1.
But that wasn't correct — the U.S. Geological Survey later determined it was magnitude 4.1, a level that is actually one-tenth as strong as originally thought.
Here's how geologists figured that out.
<...>
When the ground started shimmying from Virginia to New York, a computer produced the initial magnitude estimate using the traditional Richter scale, created by seismologist Charles Richter in the 1930s. That scale assumes earthquakes emanate from a single point underground, said Paul Caruso, a geophysicist at the National Earthquake Information Center in Golden, Colo.
<...>
"It's much more complicated and it takes a while for us to get that magnitude calculated," Caruso said.
That's why the magnitude of Thursday's earthquake was, at times, erroneously reported as 5.1 or 4.6 or 4.4. Because the magnitude scale is logarithmic, a 5 magnitude earthquake is actually 10 times stronger than a quake of magnitude 4." [2] Dance, S. (2017, December 01). baltimoresun.com
It's oddly strange that they set up the computer to use the Richter scale (ML) when all seismologists consider this scale not accurate! On the other hand, the computer is not able to determine what type of magnitude should be used. Yeah, yeah there are several types:

https://earthquake.usgs.gov/earthquakes/eventpage/terms.php
And of course the accuracy of the data:
"Why do USGS earthquake magnitudes differ from those published by other agencies?
Magnitude estimates for a given earthquake can vary between reporting agencies due to differences in methodology, data availability, and inherent uncertainties in seismic data. Individual agencies use magnitude estimation procedures designed to meet the agency's specific needs and monitoring capabilities. Even for well recorded events, differences in magnitude of 0.2 or 0.3 units are common and representative of the inherent uncertainty of the magnitude estimation process." [3]
Earthquake data: USGS [5] GIS data [14]

We can roughly estimate the magnitude, based on how far the earthquake felt. But it's not that simple for East Coast: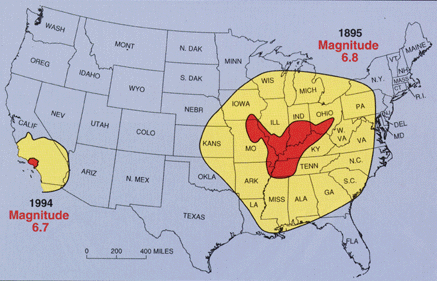 "Earthquakes in the central or eastern United States affect much larger areas than earthquakes of similar magnitude in the western United States. For example, the San Francisco, California, earthquake of 1906 (magnitude 7.8) was felt 350 miles away in the middle of Nevada, whereas the New Madrid earthquake of December 1811 (magnitude 8.0) rang church bells in Boston, Massachusetts, 1,000 miles away. Differences in geology east and west of the Rocky Mountains cause this strong contrast. [And more recently] earthquakes of similar magnitude-the 1895 Charleston, Missouri, earthquake in the New Madrid seismic zone and the 1994 Northridge, California, earthquake, [showed similar effects]." [4]
Nevertheless, the earthquake in Oklahoma (with magnitude 4.2 (mwr) vs 4.1 (mwr)) was felt much less than the earthquake in Delaware.
https://earthquake.usgs.gov/earthquakes/eventpage/us2000a3y4#dyfi
We can't prove the fact of manipulating the magnitude of an earthquake. Seismic data is available in the public domain. http://ds.iris.edu/ds/nodes/dmc/data/types/waveform-data/

Most likely they just use "bad equipment". (like with USHCN temperature stations)

---
Recently, scientists have found a strange anomaly in New England:
"30 November, 2017. Mass of warm rock rising beneath New England, study suggests
Credit: Vadim Levin/Rutgers University-New Brunswick
Slowly but steadily, an enormous mass of warm rock is rising beneath part of New England, although a major volcanic eruption isn't likely for millions of years, a Rutgers University-led study suggests. The research is groundbreaking in its scope and challenges textbook concepts of geology.
<...>
"Our study challenges the established notion of how the continents on which we live behave," Levin said. "It challenges the textbook concepts taught in introductory geology classes."
<...>
"The Atlantic margin of North America did not experience intense geologic activity for nearly 200 million years," Levin said. "It is now a so-called 'passive margin' - a region where slow loss of heat within the Earth and erosion by wind and water on the surface are the primary change agents. So we did not expect to find abrupt changes in physical properties beneath this region, and the likely explanation points to a much more dynamic regime underneath this old, geologically quiet area."" [1] - Todd B. Bates (2017, November 30). phys.org
---
Mexico, Korea now Delaware. What's next?
Earthquake data: United States Geological Survey [6], D3.js [16]

Another abnormal earthquake this autumn. First earthquake in Mexico, then in Korea now in Delaware.
Earthquake data: [10]; D3.js code [11] Full blog: poleshift.ning.com
As we know, we are now in the so-called "Age of great earthquakes".There is no doubt that since 2004 (in 2003 Planet X arrived into the solar system), seismic activity has increased in world. Here are a few scientific articles that discuss this issue:

Ammon, C. J., Lay, T., & Simpson, D. W. (2010). Great Earthquakes and Global Seismic Networks [Abstract]. Seismological Research Letters, 81(6), 965-971. doi:10.1785/gssrl.81.6.965
Lay, T. (2015). The surge of great earthquakes from 2004 to 2014 [Abstract]. Earth and Planetary Science Letters, 409, 133-146. doi:10.1016/j.epsl.2014.10.047
and etc
All this raises questions: should we expect great (M>8.5) earthquake this year?
---
Oklahoma earthquakes linked to global seismicity?
Earthquake data: OGS [12], GIS data [14], D3.js [17]
Fracking has been a process used extensively for decades, since 1903 within the US alone. If fracking caused earthquakes, has this just been noticed? This is clearly an excuse for the increase in earthquakes, one of many the establishment will latch onto as earthquake frequency increases and earthquakes occur in unusual places.
ZetaTalk Chat Q&A for December 17, 2011
"27 June, 2014. Geologist: History shows Oklahoma earthquakes not new phenomenon
<...>
Brown, who is vice president of geology at Continental Resources Inc., said he discovered evidence that Oklahoma's rising number of earthquakes isn't as unprecedented as most people believe.
Brown found a similar earthquake outbreak in the 1950s, when Oklahoma did not have equipment to properly measure seismic activity.
He also said those quakes may have been related to activity around the world, noting a similar spike in massive earthquakes worldwide since 2002.
<...>
Brown said the increasing number of earthquakes rattling Oklahoma coincides with higher activity worldwide, as it has in the past. He also noted much of Oklahoma's earthquake activity has been in different areas than where companies have drilled for oil and natural gas.
<...>
Brown said Oklahoma didn't get its first seismograph until 1961. Before then, the closest one was near St. Louis, so only the quakes that were large enough cause some damage were recorded.
He found newspaper reports from 1952 comparing an earthquake near El Reno to a bomb blast.
The range of people who felt that that 5.5 earthquake is roughly the same as the Nov. 7, 2011, quake centered on Prague, Brown said. That 5.7 temblor remains the largest in state history.
Brown said there have been similar earthquakes recently in Virginia and South Carolina, where there is no oil and gas exploration, while seismic activity seems to be increasing in Mexico, as well.
He said the Naica region in central Mexico has experienced more earthquakes than Oklahoma, with no more explanation." - [15] newsok.com

Earthquake data: OGS [12], USGS [6] D3.js [16], [17]
What does it mean? If the (this) theory is correct then the earthquakes in Oklahoma (in the Southeastern&Central United States) are NOT CAUSED by humans but are related to global seismic activity.
In 2003, Planet X arrived in the inner solar system. And in 2004 we have an earthquake on Sumatra.
References
[1] Todd B. Bates (2017, November 30). Mass of warm rock rising beneath New England, study suggests. Retrieved December 02, 2017, from https://phys.org/news/2017-11-mass-beneath-england.html
[2] Dance, S. (2017, December 01). Here's why early magnitude estimates for the Delaware earthquake were shaky. Retrieved December 02, 2017, from http://www.baltimoresun.com/news/weather/weather-blog/bs-md-earthqu...
[3] https://www.usgs.gov/faqs/why-do-usgs-earthquake-magnitudes-differ-...
[4] http://web.ics.purdue.edu/~braile/edumod/eqhazard/eqhazard2.htm or http://quake.wr.usgs.gov/prepare/factsheets/NewMadrid/
[5] Montana; California; Delaware; Oklahoma
[6] https://earthquake.usgs.gov/earthquakes/search/
[7] http://www.dgs.udel.edu/publications/ofr42-catalog-earthquakes-dela...
[8] Goss, S. (2017, December 01). 'This is wild,' USGS says of Dover 4.1 earthquake. Retrieved December 02, 2017, from http://www.delawareonline.com/story/news/local/2017/11/30/earthquak...
[9] Rare quake shudders through Northeast; centered in Delaware. (n.d.). Retrieved December 02, 2017, from http://www.foxnews.com/us/2017/11/30/rare-quake-shudders-through-no...
[10] Servicio Sismologico Nacional | UNAM, Mexico. Sismo del dia 07 de Septiembre de 2017, Chiapas (M 8.2). Retrieved from http://www.ssn.unam.mx/sismicidad/reportes-especiales/2017/SSNMX_re...
[11] Text files: Scatterplot.html; data.csv Based on example: https://bl.ocks.org/mbostock/3887118;(Released under the GNU General Public License, version 3.)

[12] http://www.ou.edu/content/ogs/research/earthquakes/catalogs.html
[13] https://earthquake.usgs.gov/data/dyfi/
[14] http://www.naturalearthdata.com/
[15] Writer, J. F. (2014, June 27). Geologist: History shows Oklahoma earthquakes not new phenomenon. Retrieved December 03, 2017, from http://newsok.com/article/4983503
[16] D3.js linechart: linechart.html; data.csv (Based on this example: http://bl.ocks.org/d3noob/4414436)
[17] D3.js barchart: barchart.html; Oklahomaquakes.csv (Based on this example: http://bl.ocks.org/d3noob/8952219)