Sri Lankan government raided private warehouses outside capital Colombo to seize thousands of tonnes of sugar last week. The raids came a day after the country declaring a state of emergency due to food shortages.
Major General Senarath Niwunhella, who was named commissioner-general of essential services told AFP at least 13 000 tonnes of white and brown sugar were found in the raids.1
"Today we started with sugar and will expand this action to other commodities like wheat flour and rice too if importers do not release their stocks to the market," he said.
Niwunhella said the objective of the raids is to prevent hoarding, adding that seized stocks will be given to state-owned retail stores to sell for below the open market price.
AFP reported the country is experiencing sharp price rises for rice, onions, and potatoes, while long queues have formed outside stores because of shortages of milk powder, kerosene oil, and cooking gas.
Experts blame the food crisis on a shortage of foreign exchange to import and maintain buffer stocks. 
The country's foreign reserves plummeted to $2.8 billion by the end of July from $7.5 billion in November 2019.2
The Sri Lankan rupee has lost almost 20% against the US dollar since the economy contracted by a record 3.6% in 2020 due to COVID-19 measures.
References:
1 Sri Lanka raids sugar stocks as food shortages bite - AFP
2 Sri Lanka declares emergency over food, forex crisis - AA
https://www.dailymail.co.uk/news/article-9977325/Supermarket-shorta...
Supermarket shortages may last 'FOREVER': Food and Drink Federation chief gives stark warning that the days of shoppers getting anything they want are 'over' - as farmer says crisis is 'killing small business'
Warning came from Ian Wright, CEO of Food and Drink Federation, who said issues would 'only get worse'
Wilfred Emmanuel-Jones MBE, who runs popular Black Farmer food range, shared picture of empty shelves 
Said smaller business like his were suffering because producers had begun only fulfilling orders of big rivals
Empty shelves in the water aisle of the Tesco store at St Rollox in Glasgow in July. The boss of the Food and Drink Federation has said that the days when UK consumers could expect to pick up nearly whatever product they want whenever they want from supermarket shelves are over
https://www.producer.com/livestock/drought-forces-north-american-ra... 
Drought forces North American ranchers to sell off their future
https://www.bloomberg.com/news/features/2021-09-02/food-prices-driv...
Your Food Prices Are at Risk as the World Runs Short of Workers
Farms are set to kill and burn 100,000 pigs because of a post-Brexit butchers' shortage: Industry chiefs vent fury at Priti Patel for leaving key staff off list - but keeping ballet dancers
Farmers may be forced to destroy nearly 100,000 pigs due to butcher shortage
Figures say the animals face being killed due to post-Brexit shortage of workers
Home Secretary Priti Patel hasn't included job on a list of shortage occupations
The list would allow foreign butchers to enter the UK on a skilled worker visa
Farmers could be forced to destroy nearly 100,000 pigs because of a post-Brexit shortage of butchers to work in slaughterhouses, according to leading figures (stock image)
https://timesofindia.indiatimes.com/world/uk/no-milk-or-water-shopp...
No milk or water: Shoppers face shortages at UK grocery stores ..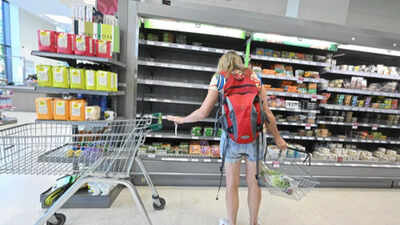 http://www.zetatalk.com/newsletr/issue072.htm
http://www.zetatalk.com/newsletr/issue120.htm
http://www.zetatalk.com/theword/tword202.htm
http://www.zetatalk.com/index/zeta418.htm
http://www.zetatalk.com/newsletr/issue109.htm