Map of maximum extent inundation. Not all areas were inundated at the same time or for the whole time. This map shows the sum of all flooded areas; in Sunda region (Myanmar, Thailand, Cambodia, Vietnam, China, Philippines, Malaysia, Southern Indonesia edge, Singapore, Brunei) since 2010 and in South Asia since 2007 (India, Pakistan, Bangladesh, Nepal). Red it's extent of floodwater, now dry. Thus the accuracy of ZetaTalk is visible to the naked eye. 7 of 10 Overview
For India, Bangladesh and Pakistan it's shocked.
It should also say that all of these countries (except Bangladesh and Taiwan) suffered from record floods, and more than once.
I made this map to show the full picture. I use GIS Software for make map.
Unfortunately some of the images are not available for 2011 due to an accident - status of LANCE Rapid Response MODIS images after the hardware failure of the disk array that contains the images on December 10, 2013. Some points will be added to the map. 
Multiple factors limit my ability to show "full' floods, one of them is the cloud cover. Sometimes cloud cover lingers until the high water has receded. Another factor that limits flood observations is land cover. 
It is also very hard to watch the flooding in the mountainous regions of Kalimantan and Sumatra.
Perhaps the biggest factor is MODIS resolution. MODIS data is only at 250 m resolution. Some flooding can not be recorded as such in Sri Lanka, Fiji and some mountainous areas.
But it is also worth mentioning that MODIS is accurate enough.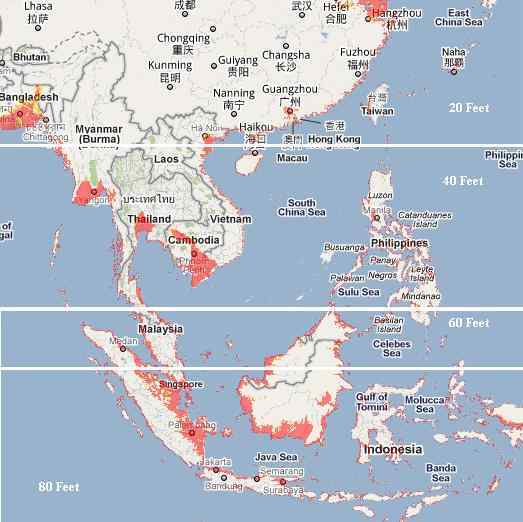 How accurate a guide are the current elevation maps provided by Google and GPS? If they reflect land that lies on solid rock, on a plate that will remain level and not tilt, accurate enough. But as we have explained, Java and Sumatra are land that is rubble, scrapped up as the plate tongue has been pushed down in the past. It is an illusion of solid land when rubble can jumble and toss. The placement of Jakarta in the past involved some logic, as tests were made to determine if the rock beneath could sustain buildings. But sinking is occurring there, not admitted in the press. At some point the airport will become unusable. In addition to the issue of solid rock vs jumble, there is the issue of the accordion folding of the plate tongue. Some parts will rise, others sink, and this will not be an even process nor even predictable. Thus Google will not be a certain guide to what lands will sink or stay above the waves.
ZetaTalk Chat Q&A for January 22, 2011
---
Last 4 years, the Philippines suffered from a series of historical floods. Typhoon and pressure can't be blamed (2012 Metro Manila floods and Metro Manila floods 2013) and even rains can't be the explanation (Early Philippines floods 2011 and Mindanao floods 2014) this is series of floods.

Recently, the press has become increasingly concerned ... They are looking for a thousand reasons including coruption, urbanization, population growth ... instead to name the main reason...

Scientists warn that Metro Manila sinking at a fast pace, but the elite ignores it.
---
Philippines floods 2013 ('Habagat'):
In August 2013 Philippines again (like August 2012) struck by historic flood. 80% of Manila flooded, again...It's new norm?

Tropical Depression can not be called as cause alone. Monsoon (Habagat) is a new excuse.
20 August, 2013. Floods cripple Metro Manila
Persistent rain has caused floods in many main thoroughfares as the southwest monsoon enhanced by Tropical Storm Maring (Trami) continues to ravage Luzon, trapping people in homes and vehicles and stranding them on the streets. Source: gmanetwork.com
---
3 May, 2013. What's making the floods worse in Manila?

A variety of factors have exacerbated the flooding problem in the Philippines.
Lashed each year by typhoons and stuck with outdated drainage systems, the Philippine capital has been hit by ever-worsening floods. Population growth, inadequate infrastructure, corruption, deforestation and even trash build-up combine to exacerbate the impact. It's a trend experts expect to continue.
Source: newsinfo.inquirer.net
---
2 September, 2013. Over 3.4 million people in 247 municipalities have been affected after five days of heavy, incessant rains flooded entire villages. The capital, Metro Manila, was 70 per cent submerged at the height of the bad weather. Thirty-eight people have been killed, over 3,000 houses destroyed and harvest-ready crops including corn and vegetables swept away in rural Aurora, leaving many people without income or food.
The severe flooding in Metro Manila and adjoining provinces across Luzon was caused by monsoon rains that were intensified by Typhoons Utor and Trami. Utor crossed and damaged provinces in Northern Luzon while Trami, which hit a week later on 18 August, struck the northern-most Batanes Island and remained stationary there for several days, bringing the equivalent of a month's rainfall. Source: christianaid.org.uk
---
22 August, 2013. According to MMDA Chairman Francis Tolentino, 65 sectors of Metro Manila were flooded on Tuesday, thus paralysing traffic. Eighty percent of Manila was flooded.
Many are wondering why the water took a longer time to recede compared to last year's Habagat rains and floods. Source: philstar.com
---
20 August, 2013. Torrential rains brought by Maring (international name: Trami) shut down Metro Manila on Monday. The government called off classes in schools and most private businesses suspended work due to flooding caused by incessant rains that started on Sunday morning.

Classes are suspended at all levels in Metro Manila on Tuesday except in Pasig, Mandaluyong, Marikina, Navotas and Valenzuela cities where there will be no classes only at the preschool, elementary and high school levels.

Rising floodwaters forced people in many parts of the metropolis and nearby provinces to flee their homes and stay in government-run shelters.

President Aquino blamed the extensive flooding on heavy rains brought by Maring, aggravated by high tide at around 1 a.m. Monday. Source: newsinfo.inquirer.net
---
23 September, 2013.  'Lesson not learned,' wrote Candy Dizon in her blog, at the height of typhoon Maring (international name: Trami) in August 2013.  The businesswoman lamented how the combination of bad urban planning and uncollected trash caused the flooding in many parts of Metro Manila and halted progress from monsoon rains enhanced by the typhoon.
Joop Stoutjesdijk, Lead Irrigation Engineer at the World Bank, observes that at present the city just cannot cope with flooding from events like Maring, and that urban flooding is an increasing challenge to development.  Manila lies in the catch basin between Laguna Lake in the southeast and Manila Bay in the north.  Indiscriminate commercial and residential developments have blocked the path of many rivers in Metro Manila, home to some 12 million individuals and still growing. Source: worldbank.org
---
15 June, 2013. 10 reasons why it floods in Manila
4. Metro Manila is not only low but it is sinking. Ground water extraction due to deep wells is causing major areas of the metropolis to sink. The north section of CAMANAVA and the southern cities from Pasay onwards have sunk from a foot to over a meter and this has made those areas more vulnerable to floods and storm surges. Scientists have pointed to the fact that this flattening has increased the reach of storm surges from the seaside to as much as 20 kilometers inland. So we get it from both ends in a perfect storm — from the mountains and from the sea. The ground is also sinking due to the weight of all that concrete, buildings and infrastructure mentioned in reason no. 2 above. Source: philstar.com
---
16 August, 2012. MMDA chief: Metro Manila can never be flood-resistant

The chairman of the Metro Manila Development Authority (MMDA) on Thursday said that Metro Manila can never be resistant to flooding.
 
"Ang sinasabi ko, Metro Manila can never be flood-resistant but it can be flood resilient," MMDA chairman Francis Tolentino said during the day's Senate climate change committee hearing on the state of disaster and climate risks in the country.
 
Tolentino explained that one of the reasons Metro Manila can never be flood-resistant is because areas like CAMANAVA (Caloocan, Malabon, Navotas, and Valenzuela) are naturally below sea level. Source: gmanetwork.com
20 August, 2013. Shocked by unprecedented floods, Cavite oldtimers blame Cavitex, mushrooming subdivisions

It was a flooding they had never seen before, oldtime residents of Imus, Noveleta, and Kawit in Cavite, just past the end of the Cavitex, said of Monday's rampaging waters, which sent many of them scrambling for the safety of their homes' second floors or rooftops.

Ironically, the oldtimers see the relatively new tollway, which has undoubtedly made commuting between Cavite and Metro Manila easier, as one of the causes of the unprecedented floods. That and the subdivisions and housing projects that have sprouted like mushrooms in their and neighboring towns which, they say, have narrowed river channels and blocked natural waterways.

So powerful was the rush of floodwater in Noveleta that a two-level niche was literally torn off its moorings and swept away, to be dumped near the Bakaw Bridge.

Even the fishponds that used to line the highways are fast disappearing to make way for new "developments" and to what they fear could be their new reality, as they tell their harrowing tales. Source: interaksyon.com
---
23 September, 2013. Olongapo reels from 'worst flooding ever'

City officials have unanimously declared a state of calamity in Olongapo after 12 hours of continuous rains caused the highest levels of floods "in the history" of the city. Source: interaksyon.com
Philippines floods 2011 ('Pedring' and 'Quiel' typhoon):
29 September, 2011
5 October, 2011
7 October, 2010
In 2011 Philippines slams by typhoon 'Quiel' and 'Pedring'. Many people think, that storm surge and heavy rains caused such terrible floods. Yea, but this is not main factor. Sinking of Sunda Plate - is main factor.
1 October, 2011. Typhoon Pedring floods worst ever: mayor.
Typhoon 'Pedring' has the worst flooding that ever occurred in Pampanga and Bulacan, said Mayor Edgardo "EdPam" Pamintuan as he described the flooding wrought by typhoon's heavy rains. The deep floodwaters are expected to be aggravated by Typhoon "Quiel" which is seen to further affect flooded areas in Pampanga, especially San Simon, Candaba, San Luis, Macabebe and Masantol.

Pamintuan said: "I saw it with my own two eyes. The whole stretch of the Candaba viaduct and more, as well as the Pampanga River is overflowing with water coming from Nueva Ecija."

The mayor said that Calumpit in Bulacan, as he witnessed, was worst hit.

"San Simon, Apalit, Candaba, San Luis, Masantol, Macasbebe and Hagonoy are worst hit, too. Houses, up to the rooftop are submerged," he added.

Pamintuan earlier noted that Angeles City was spared by Pedring and was minimally affected with no damages to roads and infrastructure.

Also on Saturday morning, the City Government, together with volunteers led by Auxiliary Bishop Pablo Virgilio David, conducted a massive clean-up of Sapang Balen Creek to avert possible flooding. Source: sunstar.com.ph
10 October, 2011. Pedring, Quiel death toll reaches 102

The death toll from typhoons Pedring and Quiel has risen to 102, the state disaster management agency said Monday. Pedring claimed 83 lives, while Quiel left 19 people dead.

Around 27 people remain missing, according to the National Disaster Risk Reduction and Management Council (NDRRMC).
Officials have pegged the damage from the 2 typhoons at over P15 billion, higher than the P10-billion damage from tropical storm Ondoy in 2009.

Pedring also affected more than 3 million people in 35 provinces, the NDRRMC said. Quiel, on the other hand, affected more than 1 million people. Source: abs-cbnnews.com
---
10 October, 2011. Pedring surpasses Ondoy in damage caused
Typhoon Pedring (Nesat) left Php 14.9 billion in damages to agriculture and infrastructure, surpassing the Php 12.3 billion in damages wrought by Typhoon Ondoy in 2009, the National Disaster Risk Reduction and Management Council said. Source: cdrc-phil.com

---
26 October, 2011. Officials called this year's floods the worst in almost 40 years in Central Luzon. Source: newsinfo.inquirer.net
---
9 October, 2011. Calumpit floods worst in 40 years
Thousands of residents stayed on rooftops or abandoned their homes in Calumpit, Bulacan Friday due to massive floods not seen in the town in the past 40 years.

Calumpit Mayor James de Jesus said a total of 26,000 families in 22 submerged barangays have been affected by the floods. "We are experiencing a flood unprecedented in 40 years. The flood hit our dike...This has never happened before. Pati munisipyo binabaha," he told ABS-CBN News Channel.

Footage taken by ABS-CBN showed residents wading through knee-deep up to chest-deep floods or riding makeshift boats to flee the town. Others rode dump trucks, which transported them to shelters. Source: abs-cbnnews.com
---
9 October, 2011. Pedring worse than Ondoy, says Pampanga gov

Central Luzon governors say Pedring's impact the worst in years. Thousands of residents stayed on rooftops or abandoned their homes in low-lying towns in Bulacan and Pampanga Friday due to massive floods that drew comparison to the deluge brought by tropical storm "Ondoy" in 2009.

Footage taken by ABS-CBN showed residents climbing rooftops or wading through chest-deep floods to escape waters that inundated their homes, which came 3 days after the onslaught of typhoon "Pedring."

Pampanga Gov. Lilia Pineda said floodwaters from Nueva Ecija caused the Pampanga River to overflow and affect towns such as Candaba, San Luis, Lubao, Macabebe, Apalit, San Simon and parts of Arayat.
Highest flood in 40 years

Calumpit Mayor James de Jesus earlier said a total of 26,000 families in 22 submerged barangays have been affected by the floods. The mayor earlier declared a state of calamity in the town.

"We are experiencing a flood unprecedented in 40 years. The flood hit our dike...This has never happened before. Pati munisipyo binabaha," he told ABS-CBN News Channel.

De Jesus said evacuation efforts were launched on Thursday but many residents chose to stay because they were used to floods. He said many residents panicked and stayed on rooftops after floods rose at an alarming rate Thursday night. Source: abs-cbnnews.com

---
9 October, 2011. 'Pedring' worse than 'Ondoy': Candaba mayor

A Pampanga mayor said on Friday typhoon "Pedring" was worse than tropical storm "Ondoy."

Speaking to dzMM, Candaba Mayor Gerry Pelayo said all of the town's 33 barangays, some of which are now isolated, are covered in water as high as 14 feet.

"Yung tubig natin dito talagang eto na yung pinakamalaki sa historya ng Candaba. Walang sinabi ang Ondoy," he said.

"Eto yung galing sa Aurora, Quezon, Nueva Ecija, babagsak sa Candaba. Yung galing sa Candaba tuloy-tuloy sa Calumpit (in Bulacan)."

According to Pelayo, residents in 8 barangays along the Pampanga river need permanent resettlement after flood waters inundated the area. Source: abs-cbnnews.com
---
28 September, 2011. The large waves that hammered the coastline of Manila Bay on Tuesday and caused flash floods in areas near it were caused by a storm surge, according to state weather bureau PAGASA.

The surge of waves began early in the morning, with seawater spilling on streets by 8 a.m., flooding Raja Soliman Park and Roxas Boulevard.

The huge waves caused by the storm surge battered the bay's seawall, causing portions of the wall to collapse.

Weather bureau PAGASA said this is the first time this has happened.
US embassy flooded.

Floods also struck the US embassy. It will remain closed until Wednesday, according to embassy information officer Tina Malone.

"The embassy was not evacuated. The decision was made at 8am to close embassy operations and re-schedule all consular appointments.

Members of the public were given assistance to depart the flooded compound," she said. Source: abs-cbnnews.com
What caused storm surge? Main reason it's sinking!
30 September, 2011. The abuse of the sea and the environment, as a whole, is the primary reason for huge, destructive storm surges.

This was the analysis of the fisherfolk group, Pambansang Lakas ng Kilusang Mamamalakaya ng Pilipinas (Pamalakaya) of the recent storm surge in the Manila Bay, connected with the 600-km radius Pedring (international code: Nesat). The 12 to 16 (or more) high sea waves had mocked down trees and other structures along the bay walk, causing massive flooding.

Not created by mere typhoon winds

Pamalakaya vice chair Salvador France, in a statement said, they do not believe that the surge was caused by strong winds, brought by Pedring, alone; it was the continuous reclamation of lands and parts of the Manila bay had made the waves in "monstrous proportions."

""We will not buy the idea that the storm surge that happened in Manila Bay was chiefly caused by Pedring's strong wind. That is just an external factor which clinched that storm surge in the afternoon of September 27. The long-running crime of reclamation in Manila Bay is the principal reason why the storm surge happened not only in Roxas Boulevard but almost in the entire stretch of the bay from Cavite to Bataan province," says France.

This analysis, he says, is brought by the fishermen's "experiential science" or by the practical knowledge that they have garnered through years of fishing and dealing with the open seas.

"The fisherfolk science based on experience says the unstoppable reclamation activities in Manila Bay altered the flow and movement of waters in Manila Bay. There was no storm surge before in the lake until this across-the-bay reclamation activities swept the bay by storm. It practically changes the movement and flow of waters inside an enclosed body of water since the 70s," he said. Source: facebook.com
Sinking it's fact confrimed by radar satellite!
Sinking land behind worsening floods
Aside from global warming causing stronger cyclones and rising oceans levels, sinking lands in Metro Manila and Central Luzon are causing floods to worsen, scientists have warned. Lands are sinking because of the natural compaction of soil and rapid withdrawal of groundwater, according to Dr. Fernando Siringan of the Marine Science Institute at the University of the Philippines Diliman.

Siringan, in a post-"Ondoy" assessment paper, said land subsidence is the least understood but very important cause of flooding.

Citing studies made by the Japan International Cooperation Agency (JICA), he said that at Manila's South Harbor, the mean sea level rose by just around 2 millimeters per year from 1902 to the early 1960s until it then started rising more than 10 times as fast, or around 2.6 centimeters per year.

Siringan said intensified groundwater withdrawal is causing land areas to sink, particularly in Metro Manila, where groundwater demand is still increasing.
Typhoons, southwest monsoon not to blame

The study said typhoons should not be immediately tagged as the cause of worsening floods in the areas. "The southwest monsoon and typhoons annually deliver approximately 2,000 millimeters of rain to the region, but the amounts have been decreasing since 1900 (Intergovernmental Panel on Climate Change, 1995; Jose et al., 1996) and cannot be blamed for the worsening floods," the paper said.

Dr. Greg Bankoff, an associate professor in the School of Asian Studies at the University of Auckland, New Zealand, also identified sinking lands as one of the primary causes of severe flooding in northern Metro Manila and parts of Pampanga and Bulacan.

"The extent of flooding has also been considerably aggravated in recent decades by land subsidence," he said in a study published by the International Institute for Asian Studies.

"Sediments that underlie river deltas have a high water content that is 'squeezed' by the weight of succeeding deposits, a process that is greatly accelerated when groundwater is extracted faster than it can be replenished by natural recharge from rain seeping back into the ground," he explained. "As the land around Manila Bay sinks and the level of the sea rises, flooding has become more prevalent not only in the city but also in the surrounding provinces," Bankoff said. Source: abs-cbnnews.com
---

Floods are here to stay and there is nothing we can do to change it. Swamped practically on a yearly basis, metro residents are not oblivious to this fact. Rainfall will perennially submerge our streets and the best we can do is to prepare for and not aggravate the floods.
Subsidence

To worsen the situation, many parts of Metro Manila are subsiding. Called ground subsidence, this is the phenomenon in which land sinks primarily because water that occupies the ground below is extracted by humans, faster than it is replenished by nature.

Leveling data from the National Mapping and Resource Information Authority (Namria) reveal areas in Metro Manila that sank 0.68 meter to 1.34 meters in 30 years (from 1979 to 2009).

A big part of groundwater subsidence in Camanava (Caloocan, Malabon, Navotas and Valenzuela) is mainly due to excessive groundwater pumping by fishpond operators, according to a study by Rodolfo and Siringanin 2006.

The probable consequences of continued sinking of the ground are dire, as dikes that serve to protect Camanava from sea water incursion may eventually be overtopped and bring forth sudden flooding.

Images from space

Processed radar images taken from space from 2003 to 2009 showed blue areas of greater Metro Manila that sank. The ground subsidence "hot spots" in the northern part of the metropolis are Navotas, Malabon, Caloocan and Manila, and neighboring areas of Guiguinto, Marilao and Meycauayan in Bulacan.

In the south are the cities of Muntinlupa and Las Pinas in Metro Manila, Binan in Laguna, and Dasmarinas City and the municipality of Rosario in Cavite.

Ground subsidence rates are up to 5.5 to 6 centimeters per year and are highest in Marilao, Meycauayan and Caloocan.

The satellite image of Metro Manila shows movement of the ground. (See map.) Blue areas correspond to sinking ground with the highest rates of subsidence at 5.5 cm per year. The image was processed by Narod Eco of the DOST project team.

Circular pattern

The circular-shaped pattern of sinking grounds in Metro Manila indicates overpumping of groundwater as the primary cause of subsidence. Unless excessive groundwater withdrawal is curbed in these areas, subsidence will continue.

In 20 years, such rates mean that the ground surface will drop by more than a meter. This will aggravate flooding from heavy rainfall and constitute a coastal-dike breach hazard in areas near Manila Bay.

West Valley Fault

The probable causes of ground movement in Muntinlupa, Taguig and Pateros are still uncertain. The motion along the West Valley Fault, clearly seen in these areas in the deformation image of Metro Manila, may play an important role.

However, the contribution of tectonic activity in these areas to the ground-subsidence phenomenon is yet unknown and still being investigated. Source: opinion.inquirer.net

---
Philippines [Mindanao] floods 2011:
22 June, 2011
19 May, 2010
1 July, 2011. Flood-hit Mindanao battles water hyacinths

The innocuous-looking plants are the prime culprits of recent flooding in and around this city of 400,000, according to local officials. "This is the worst I have ever seen it," Cotabato Archbishop Orlando Quevedo, who chairs the Presidential Task Force on the Mindanao River Basin, told IRIN. "This happened two years ago, but never like this."

As of 20 June, some 25,000 families in the city had been affected. Of these 8,000 were staying in temporary shelters, mostly schools, with some 17,000 remaining at home, local authorities said.

Heavy rain in eastern Mindanao in recent weeks caused the river to burst its banks, leaving parts of 33 of Cotabato City's 37 low-lying villages inundated. Thousands of children were forced out of school, the UN Children's Fund (UNICEF) reported, as water levels in some parts of the city rose to 0.7 metres.

According to the Philippine National Disaster Risk Reduction and Management Council (NDRRMC) on 19 June, flooding since the end of May has affected 120,038 families or more than 611,000 individuals in nine of Mindanao's 26 provinces. At least five people have been reported dead. Source: irinnews.org

---
Upon reaching Cotabato City, they lost no time in proceeding to Delta Bridge on Rio Grande river. The bridge and that of the Tamontaka River was just recently cleared of about six hectares of water hyacinths which have earlier raised the water's level and thus causing the worst flood in the history of the city and in Central Mindanao in the ARMM. Source: gensantos.com
---
22 June, 2011. President Benigno Simeon Aquino III arrived in Cotabato City on Wednesday morning to check on the welfare of 962,591 flood victims, suffering from one of the worst calamities in the history of western Mindanao. Source: gmanetwork.com
---
17 June, 2011. Around 90 percent of Cotabato City is underwater due to two weeks of continuous rain, an official from the Cotabato Disaster Office said in an interview over 990AM Friday.

"Due to two weeks of continuous rain, 30 out of 37 barangay [villages] here in Cotabato or 90 percent is already flooded," Sam Mundas, action officer of the Cotabato Disaster Office said over Tapatan with Jay Sonza and Den Macaranas. Source: newsinfo.inquirer.net
---
16 June, 2011. Cotabato City and other provinces in southern Philippines are experiencing their worst flooding in years, but authorities are not just blaming it on the weather or poor flood control. They are pointing instead at plants that feed off polluted waters, colorful water hyacinths. Source: gmanetwork.com
---
30 June, 2011. 25 dead, 15 reported missing in Davao City floods

The worst ever in terms of loss of lives.

Twenty-five persons were killed, 15 of them children, while 15 others remain missing as of 5 p.m. Wednesday  as flashfloods struck at least five barangays here from late Tuesday night to early Wednesday morning.

"In terms of damage to property, this is not the worst. But this is the worst flood in terms of loss of lives," Vice Mayor Rodrigo Duterte told MindaNews. Duterte served as mayor from 1988 to 2010, interrupted only by a stint as congressman from 1998 to 2001.

The floods caused the overflow of the Matina Pangi river and displaced 12,410 families, 1,475 of them in evacuation centers, the City Social Services and Development Office (CSSDO) reported as of 5 p.m. Wednesday. Source: mindanews.com
---
22 June, 2011. Unprecedented floods have gripped Cotabato in recent weeks following incessant rains.
    
Officials admit that the flooding is not like anything the province has ever seen.
    
"It is the worst I have seen in my 50 years staying on and off Cotabato City," said  Bishop Orlando Quevedo, Head of the Presidential Task Force on Mindanao River Basin Rehabilitation and Development on ANC's "The Rundown" on Monday.
    
Compared to the flooding in Cotabato in 2008, the flood level this year, he said, is nearly half a meter higher than the 2008 record. Source: abs-cbnnews.com