Most buildings in central Marysville, Ind., in the southeastern part of the state, were destroyed by a tornado Friday. No one was killed in the town.



States Assess Twisters' Wrath
Updated March 5, 2012, 6:26 a.m. ET
MARYSVILLE, Ind.—In this small town in southeast Indiana, the tornado's devastation was so severe that residents weren't asking how to rebuild—but whether to try at all.
The twister Friday destroyed nearly all of the roughly 30 homes in the center of Marysville, which sprouted up 140 years ago around a train station. Although no one died, the storm scattered pieces of homes across miles of surrounding farmland, peeled the roof from Marysville's community center, and shifted the town's only church off its foundation.
"I hate to say this, but I'd honestly be surprised if Marysville comes back," said Kimberly Hoselton, 38, who lived near Marysville Christian Church, where she was baptized and married. The tornado took her roof.
Dozens of tornadoes Friday pulverized homes and killed at least 39 people—21 in Kentucky, 13 in Indiana, three in Ohio, and one each in Georgia and Alabama. They also caused damage and injuries in Tennessee. Tornadoes were sighted in five other states, though they escaped with less damage. Hundreds of people were injured and hundreds left homeless. Ten more tornadoes were reported Saturday, including in one additional state, Florida, but no one was killed....
The destruction "is some of the worst I've ever seen," Kentucky Gov. Steve Beshear said Sunday after inspecting the devastation. More than a third of the state's 120 counties reported storm damage, with more than 300 people injured.
In West Liberty, a town of 3,400 about 80 miles east of Lexington, "it looks like a bomb was dropped in the center of town," Mr. Beshear said. In a billiards hall he saw there, people survived by huddling under a pool table as the tornado reduced the building to rubble.
Authorities said the death toll could have been much higher, given the number of twisters, but officials alerted residents in advance using television and radio stations, text alerts and social media networks like Twitter and Facebook.
A full understanding of the physical damage could take weeks. State emergency teams have begun preliminary assessments, with reinforcements expected from the Federal Emergency Management Agency. Hundreds of members of the National Guards in Kentucky and Indiana fanned out across the states over the weekend....  http://online.wsj.com/article/SB10001424052970204276304577261731211...
Henryville, Indiana, pictured, and nearby Marysville, which is 'completely gone'. http://www.nowtheendbegins.com/blog/?p=9030



Search for Survivors After Storms Tear Across States

... Over all, the National Weather Service issued 255 tornado warnings on Friday. It received 94 reports of tornadoes, 208 reports of strong winds and 410 reports of hail. The office in Nashville reported that hail nearly 3 inches in diameter had broken the windows of a house in Lebanon, Tenn.
Sgt. Jerry Goodin of the Indiana State Police recalled assisting in rescue efforts in Mississippi after Hurricane Katrina in 2005. "Obviously it's not as widespread, but in the areas that are hit, the devastation is as bad, if not worse than what we had down there," he said.
Along hundreds of miles of roads in Clark, Scott and Washington Counties, he said, standing homes were few and far between. "There's nothing there," he said, "just open spaces."...
The tiny town of Marysville, Ind., less than an hour's drive north of Louisville, Ky., was reported to be nearly flattened....  http://www.nytimes.com/2012/03/04/us/deadly-tornadoes-pound-the-south-and-the-midwest.html?pagewanted=2&_r=1&hp


Marysville, Indiana Tornado 'Completely' Destroys Town
March 2, 2012
JEFFERSONVILLE, Ind. (AP) — Tornadoes have left widespread damage in southern Indiana and a sheriff's official says at least one town of about 1,900 people is "completely gone."
National Weather Service coordinator Bill Whitlock there's "extreme damage" in the area of Henryville, a town of about 3,000 people just north of the Kentucky border. Destruction can be seen for miles and a school district spokeswoman says heavy damage has been reported at Henryville High school.
Clark County Sheriff's Department Maj. Chuck Adams says the nearby town of Marysville is "completely gone."
Indiana Department of Homeland Security spokesman John Erickson says there are injuries but no immediate reports of fatalities.
Officials say they've had difficulty confirming reports due to downed power and telephone lines.  http://www.huffingtonpost.com/2012/03/02/marysville-indiana-tornado-destroys-town_n_1317161.html?ref=mostpopular#s751289


http://www.huffingtonpost.com/2012/03/02/alabama-tornado-2012_n_131...
http://www.youtube.com/watch?feature=player_embedded&v=JMRkWhgd...!
Published on Mar 2, 2012 by AssociatedPress
Storm chasers capture on video the destructive band of storms as it touched down in Indiana Friday near Henryville. There is extensive damage in the area with homes flattened and roofs ripped off. (March 2)

Alabama, Indiana, Tennessee and
Other States Hit by Storms/Tornadoes

HENRYVILLE, Ind. — A coroner in southeastern Kentucky says four people have died in storms there, bringing the total number of weather deaths in the state for the day to at least nine.
The powerful storms that stretched from the Gulf Coast to the Great Lakes have killed at least 24 people in all, including 14 in Indiana and one in Ohio....
AP's earlier story is below.
Powerful storms leveled small towns in southern Indiana, transforming entire blocks of homes into piles of debris, tossing school buses into a home and a restaurant and causing destruction so severe it was difficult to tell what was once there. As night fell, dazed residents shuffled through town, some looking for relatives, while rescue workers searched the rubble for survivors. Without power, the only light in town came from cars that crawled down the streets.
From the Gulf Coast to the Great Lakes, the storms touched nearly all walks of life. A fire station was flattened. Roofs were ripped off schools. A prison fence was knocked down and scores of homes and businesses were destroyed. At least 20 people were killed, including 14 in Indiana, and dozens of others were hurt in the second deadly tornado outbreak this week.
It wasn't immediately clear how many people were missing.
The threat of tornadoes was expected to last until late Friday for parts of Kentucky, Tennessee, Indiana and Ohio. Forecasters at the National Weather Service's Storm Prediction Center said the massive band of storms put 10 million people at high risk of dangerous weather.
"We knew this was coming. We were watching the weather like everyone else," said Clark County, Ind., Sheriff Danny Rodden. "This was the worst case scenario. There's no way you can prepare for something like this."
In Henryville, the scene was eerie and somewhat chaotic. Cell phones and landlines were not working. Hundreds of firefighters and police zipped around town. Power lines were down and cars were flipped over. People walked down the street with shopping carts full of water and food, handing it out to whoever was in need.
Terry Brishaber said his uncle's mobile home was gone.
"I don't see any remnants. I don't know where it's at," he said.
Aerial footage from a TV news helicopter flying over Henryville showed numerous wrecked houses, some with their roofs torn off and many surrounded by debris. The video shot by WLKY in Louisville, Ky., also showed a mangled school bus protruding from the side of a one-story building and dozens of overturned semis strewn around the smashed remains of a truck stop.
"I'm a storm chaser," said Susie Renner, of Henryville, "and I have never been this frightened before."...
... trees were uprooted and cars had huge dents from baseball-sized hail....
Forecasters at the Storm Prediction Center said the spate of storms was unusual....
The outbreak was also causing problems in Alabama and Tennessee where dozens of houses were damaged. It comes two days after an earlier round of storms killed 13 people in the Midwest and South.
At least 20 homes were ripped off their foundation and eight people were injured in the Chattanooga, Tenn., area after strong winds and hail lashed the area. To the east in Cleveland, Blaine Lawson and his wife Billie were watching the weather when the power went out. Just as they began to seek shelter, strong winds ripped the roof off their home. Neither was hurt.
"It just hit all at once," said Blaine Lawson, 76. "Didn't have no warning really. The roof, insulation and everything started coming down on us. It just happened so fast that I didn't know what to do. I was going to head to the closet but there was just no way. It just got us."
Thousands of schoolchildren in several states were sent home as a precaution, and other schools never opened. The Huntsville, Ala., mayor said students had to take cover as severe weather passed in the morning.
"Most of the children were in schools so they were in the hallways so it worked out very well," said Huntsville Mayor Tommy Battle. 
An apparent tornado also damaged a state maximum security prison about 10 miles from Huntsville, but none of the facility's approximately 2,100 inmates escaped. Alabama Department of Corrections spokesman Brian Corbett said there were no reports of injuries, but the roof was damaged on two large prison dormitories that each hold about 250 men. Part of the perimeter fence was knocked down, but the prison was secure....  http://www.huffingtonpost.com/2012/03/02/alabama-tornado-2012_n_131...
http://www.heraldsun.com.au/news/breaking-news/at-least-nine-dead-a...

More Tornadoes Strike US Midwest
March 1, 2012
THE belt of severe storms that earlier killed at least nine people in the Midwest crashed east through Tennessee Wednesday night, where officials reported that three people died and several homes were destroyed.
Severe storms hit central Tennessee, between Nashville and Knoxville, in the early evening, the National Weather Service (NWS) reported, with reports that a tornado touched down near Crossville.

Two people were killed in the Rinnie community, just north of Crossville, but the circumstances were not immediately clear.

An unknown number of others were injured after becoming trapped under several houses destroyed in the storms, officials told the Knoxville News Sentinel. Emergency officials were working to rescue those trapped and several were evacuated from the scene by a medical helicopter, the newspaper reported.

The Putnam County Emergency Management Agency said another fatality was recorded near Smithville in DeKalb County, WSMV-TV reported. No further details were available.
Much of Tennessee was under a tornado watch Wednesday, as the deadly storm system rolled east towards North Carolina, South Carolina, Alabama and Virginia -- where the NWS also issued tornado watch alerts.
Late Wednesday the NWS was reporting widespread damage to homes, barns and power lines -- as well as numerous trees blocking roads -- in eastern Tennessee, Alabama and West Virginia.
Earlier six people were killed when a tornado reportedly touched down in Harrisburg, Illinois, while three others were killed as the storms struck Missouri, authorities said.... 
http://www.heraldsun.com.au/news/breaking-news/at-least-nine-dead-a...


Storms in the Midwest Kill at Least 9
... Back in Harrisburg, where six people were killed, scientists said the tornado was an EF4, the second-highest rating given to twisters based on damage.
The storm was 200 yards wide with winds up to 170 mph, meteorologist Rick Shanklin said....
The tornado that barreled through the tiny eastern Kansas town of Harveyville was an EF-2, with wind speeds of 120 to 130 mph, state officials said. It left much of the community in rubble.... 
At least 16 tornado sightings were reported from Nebraska and Kansas across southern Missouri to Illinois and Kentucky, according to the storm center, an arm of the National Weather Service....
Tornado season normally starts in March, but it isn't unusual to see severe storms earlier in the year. [That may be true, now, but only since Planet X arrived in the inner solar system.]  http://www.nytimes.com/aponline/2012/02/29/us/AP-US-Severe-Weather.html?_r=1&hp


**************************************
(CNN) -- A storm system that produced a number of tornadoes in the Midwest was blamed for at least seven [now nine] deaths in two states, officials said Wednesday.
At least three people were killed when a tornado touched down in Harrisburg, Illinois, early Wednesday, the Saline County Sheriff's Office said. About 100 others were injured.
The number of fatalities in Harrisburg could rise, the city's mayor said, in the wake of the twister that appeared to have been on the ground for several miles, said the city's mayor, Eric Gregg. The path of destruction was about three or four football fields wide, he said.
The scene in the southern part of Harrisburg, where the tornado struck, was one of debris and collapsed houses. Commercial and residential buildings were crushed. A tractor-trailer could be seen laying on its side, off the highway.
Crews were searching "piece by piece" for survivors, Gregg said.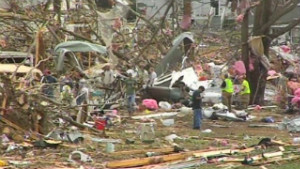 Tornado leveled Illinois homes, stores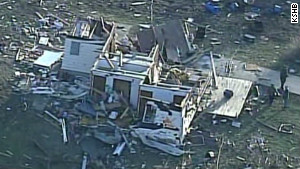 Storm slashes through Kansas town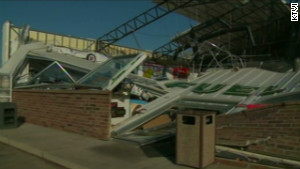 Storm damage in Missouri town
It was "a path of destruction that is absolutely devastating," he said. "It's a very difficult day for a very good community in southern Illinois."
At least five people were killed in Harrisburg because of the storm, he said.
According to the sheriff's office, some 100 people were injured and between 250 and 300 houses were damaged or destroyed. Some 25 businesses were also damaged or destroyed, the sheriff's office said.
Crews were also examining some structural damage to the Harrisburg Medical Center, to judge whether any patients must be moved, Gregg said.
"It's like nothing I've ever seen, and something I don't care to see again," he said.
Earlier, two deaths were reported in Missouri as a result of the storms.
A woman was killed overnight in Dallas County, Missouri, the coroner there said, without giving further details.
An apparent tornado near Cassville, Missouri, left another person dead, the Barry County Sheriff's Office said. That person was thrown out of a mobile home, the sheriff's office said.
Tornado in Kansas captured on video
The pounding rain and swirling, destructive winds raking several Plains states injured others in Kansas, as well. That state was socked Tuesday night and Gov. Sam Brownback declared a state of emergency for a small town hit badly by the severe weather.
The National Weather Service's Storm Prediction Center issued tornado watches through noon for parts of Kentucky, Tennessee, Indiana, Arkansas, Illinois and Missouri.
Along with tornadoes, the center warned of the possibility of golf-ball-sized hail, winds up to 75 miles per hour and "dangerous lightning."
The state of emergency was declared for the tiny Kansas town of Harveyville, about 20 miles southwest of Topeka. Emergency teams combed the community to assess damage. Authorities said they believe a tornado hit the town Tuesday night.
Some homes and a church were damaged, and there were numerous reports of trees and power lines down throughout the area, according to the Kansas Adjutant General's Department.
At least one person was critically injured and transported to a hospital in Topeka while four others were briefly trapped in a structure.
"It is quite hectic," said Bill Beasley of the American Medical Response for Shawnee and Wabaunsee counties, who said nine ambulances were dispatched to the scene.
The American Red Cross is assisting and officials have set up a shelter at a local high school.
There were also reports of a tornado touchdown in Kansas' Reno County, near Hutchinson, and another in central Nebraska.
The same powerful winter storm system spawned the severe weather in Dallas County, Missouri, and along the Missouri-Arkansas border.
A path of destruction cut six to seven miles through Taney County, Missouri, damaging homes and businesses, according to Sheriff Jim Russell, who said there were "some injuries," but no reports of fatalities....  http://www.cnn.com/2012/02/29/us/kansas-severe-weather/index.html?hpt=hp_t1