UPDATED REGULARLY

Bartering is the key to success in all of whatever occurs.  PURCHASE ITEMS AND FOOD NOW TO BARTER WHEN YOU NEED TO.  Buy things specifically for those times when situations get rough as you will have living GOLD to exchange. 
DO NOT HOARD (READ HERE!) as that creates its own problems,  but be ready to barter whatever you think someone may value as an exchange during hard times.  Have it ready for whatever situation may occur in your region in the near future,  or after the 7 of 10.
How can one prepare for this financial situation if the grid stops working?  What will be the expectations?  It is likely most folks will hope the local community or government will provide for them.  However,  just take note of how the Asia Pacific flooding has been handled to get an idea of the kind of help one may get.
While the Financial Condition of the global economy is still spiraling, the Zetas mentioned before the PS there 
will be much bartering going on.   With the 7 of 10 being expedited from the Christmas Hammer it is likely this will cause great havoc financially and socially.  Just to add to that the world has absolutely NO IDEA what will be the new situation.

---------------------------------------------------------

Broke! 10 Facts About The Financial Condition Of American Families That Will Blow Your Mind
SOURCES: http://www.businessinsider.com/american-families-are-broke-2011-7?op=1  and
The crumbling U.S. economy is putting an extraordinary amount of financial stress on American families.  For many Americans, "flat broke" has become a permanent condition.  Today, over half of all American families live paycheck to paycheck.  Unemployment is rampant and those that do actually have jobs are finding that their wages are rising much more slowly than prices are.  The financial condition of average American families continues to decline and this is showing up in all of the recent surveys.  For example, according to a new Gallup poll, "lack of money/low wages" is the number one financial concern for American families.  To make ends meet, many American families are going into even more debt and more American families than ever are turning to government assistance.  Right now, more Americans than at any other point since World War II are flat broke and have lost hope.  Until this changes, the frustration level in this country is going to continue to grow.
The following are 10 facts about the financial condition of American families that will blow your mind.....
#1 Only 58 percent of Americans have a job right now.
#2 Only 56 percent of Americans are currently covered by employer-provided health insurance.
#3 The median yearly wage in the United States is $26,261.
#4 The average American household is carrying $75,600 in debt.
#5 Only the top 5 percent of U.S. households have earned enough additional income to match the rise in housing costs since 1975.
#6 At this point, American families are approximately 7.7 trillion dollars poorer than they were back in early 2007.
#7 The poorest 50% of all Americans now own just 2.5% of all the wealth in the United States.
#8 According to one study, approximately 21 percent of all children in the United States were living below the poverty line in 2010.
#9 Today, there are more than 44 million Americans on food stamps, and nearly half of them are children.
#10 According to Newsweek, close to 20 percent of all American men between the ages of 25 and 54 do not have a job at the moment.
So what is causing all of this?
Where in the world did all of the good jobs go?
Well, the truth is that millions of them have been shipped overseas.
Our politicians promised us that merging our economy with the economies of other nations where it is legal to pay slave labor wages to workers would not create more unemployment inside America.
They were dead wrong.
Now we are being told that we just need to accept a lower standard of living.
For example, billionaire Howard Marks says that it is time for all of us to just accept that the standard of living of American workers is inevitably going to decline to the level of the rest of the world....
"In addition to balancing the budget and growing the economy, I think we have to accept that the coming decades are likely to see U.S. standards of living decline relative to the rest of the world. Unless our goods offer a better cost/benefit bargain, there's no reason why American workers should continue to enjoy the same lifestyle advantage over workers in other countries. I just don't expect to hear many politicians own up to this reality on the stump."
Are you willing to accept that?
Meanwhile, the job losses continue to get worse.  As I wrote about the other day, as the U.S. economy has started to slow down again we are starting to see another huge wave of layoffs all over America.
You can stop waiting for the "good jobs" to come back.
They aren't coming back.
That is one reason why I try to encourage everyone to become more independent of the system.
As our economic system continues to degenerate, Americans are going to become increasingly desperate.
Sadly, desperate people do desperate things.  Already we are starting to see signs that the fabric of American society is starting to be ripped to shreds.
So what is going to happen if the economy gets even worse?
There is a limit to how many people we can actually put in prison.  The reality is that the number of Americans in prison has nearly tripled since 1987.
Our prisons are already dangerously overcrowded.  As society falls apart, many communities will simply not be able to shove more people behind bars.
Even with our prisons stuffed to the gills, many of our largest cities continue to be transformed into absolute hellholes.
Detroit is now the 3rd most dangerous city on the entire planet and New Orleans is now the 9th most dangerous city on the entire planet.
---------------------------------------------------------------------------------------------------------------------
While we await the 7 to play out, mounting personal debt is having a slowing effect on preparation. How did it all start?? Here is an interesting video series on banks and debt (click the series).
With a slowing economy worldwide, little money is left to spend on preparing a Safe Location. But NOW is the time to do this. Unfortunately, anything which has not happened yet is trivial for some family members to face. Those who want to prepare are simply out of luck with assistance from those who don't see the need yet.
Are you able to afford moving to your Safe Location? Can you afford to buy land or a property AND build your own safe home? Got any extra money to help anyone else? Got just gas in the car and hoping for the best? Community building really should begin NOW before things get too difficult to prepare after the 7 of 10. Learn some basics of rugged living here if you can only just rough it.
http://www.youtube.com/user/councilonsper and you will be amazed!:
---------------------------------------------------------------------------------------
SOURCE: http://endoftheamericandream.com/archives/the-mad-as-hell-generatio...
20 Reasons Why Millions Of Americans Under The Age Of 30 Are Giving Up On The U.S. Economy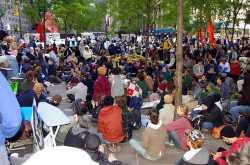 Millions upon millions of young Americans have completely lost faith in the U.S. economy and are mad as hell that their economic futures have been destroyed.  The recent economic downturn has hit those under the age of 30 the hardest.  Today, there are hordes of young people that should be entering their most productive years that are sitting home with nothing to do.  Many of them have worked incredibly hard throughout high school and college.  Many of them have stayed out of trouble and have done everything that "the system" asked them to do.  But once they got finished with school, the promised "rewards" simply were not there.  Instead, millions of young Americans are faced with crushing student loan debt loads in an economy where they can't find good jobs.  When you are in your twenties, it can be absolutely soul-crushing to send out hundreds (or even thousands) of resumes and not get a single interview.  Most of us grew up believing that we would "be something" when we got older, and millions of young Americans are having those dreams brutally crushed right now.  Americans under the age of 30 voted for Barack Obama in droves back in 2008 because they believed that he would make things better.  Instead, Barack Obama has made things even worse.  Significant numbers of young Americans are starting to wake up and realize that neither political party is providing any real answers, and they are starting to get mad as hell about it.
Americans under the age of 30 don't want to hear that they are not going to be able to do better than their parents.  They don't want to hear that they are going to have to "pay the price" because of the mistakes of previous generations.  They don't want to hear that the "good jobs" that have been held out as a "carrot" for them all these years have disappeared and are not coming back.
Millions of young Americans want what was promised to them.  They want good jobs that will enable them to enjoy the "American Dream".  They want things to go back to the way that things used to work in America.
If you spend much time around those in their twenties, you know that many of them have a look of hopelessness in their eyes.  Large numbers of them have moved back in with their parents.  Large numbers of them are flipping burgers or working retail jobs part-time because that is all they can find.  There are even a growing number of them that have given up entirely and have completely checked out.
So are we in the process of creating a "lost generation"?
The following are 20 reasons why millions of Americans under the age of 30 are giving up on the U.S. economy....
#1 Only 55.3% of Americans between the ages of 18 and 29 were employed last year.  That was the lowest level that we have seen since World War II.
#2 Today, there are 5.9 million Americans between the ages of 25 and 34 that are living with their parents.
#3 The economic downturn has been particularly tough on men.  According to Census data, men are twice as likely to live with their parents as women are.
#4 Amazingly, less than 30 percent of all U.S. teens had a job this summer.
#5 Approximately one out of every five Americans under the age of 30 is currently living in poverty.
#6 According to one recent survey, only 14 percent of all Americans that are 28 or 29 years old are optimistic about their financial futures.
#7 Since the year 2000, incomes for U.S. households led by someone between the ages of 25 and 34 have fallen by about 12 percent after you adjust for inflation.
#8 The cost of "getting an education" has become increasingly burdensome in recent years.  Average yearly tuition at U.S. private universities is now up to $27,293.  That figure has increased by 29% in just the past five years.
#9 In America today, approximately two-thirds of all college students graduate with student loans.
#10 Millions of young Americans are absolutely being financially strangled by horrific student loan debt loads.  Sadly, the total amount of student loan debt in the United States now exceeds the total amount of credit card debt in the United States.
#11 In 2010, the average college graduate had accumulated approximately $25,000 in student loan debt by graduation day.
#12 One-third of all college graduates end up taking jobs that don't even require college degrees.
#13 In the United States today, there are more than 100,000 janitors that have college degrees.
#14 In the United States today, 317,000 waiters and waitresses have college degrees.
#15 In the United States today, approximately 365,000 cashiers have college degrees.
#16 In the United States today, 24.5 percent of all retail salespersons have a college degree.
#17 As the economy has crumbled, fewer young Americans have been getting married.  Today, an all-time low 44.2% of Americans between the ages of 25 and 34 are married.
#18 Young Americans are becoming increasingly frustrated as our politicians stand by and do nothing while our economy is being hollowed out.  The sad truth is that United States has lost an average of 50,000 manufacturing jobs a month since China joined the World Trade Organization in 2001, and top politicians in both major political parties keep pushing for even more job-killing "free trade" agreements.
#19 Young Americans are becoming increasingly frustrated that pretty much the only jobs that seem to be available are low paying jobs.  Back in 1980, less than 30% of all jobs in the United States were low income jobs.  Today, more than 40% of all jobs in the United States are low income jobs.
#20 Young Americans are becoming increasingly frustrated that previous generations have saddled them with a 14 trillion dollar national debt that they are expected to make payments on for the rest of their lives.
A lot of young Americans swing back and forth between anger and despair.  Many of them worked like crazy for years because of the promise of a better life, and now they are being bitterly disappointed.  Just consider the following testimonial that was recently posted on The Atlantic....
I am in my mid-20s. I have a university education. I started working when I was 14. I have chemical burns and scars over my hands from dealing with caustic cleaning chemicals. I did not want that to be my life like my uncles. I had to get out. I worked very hard in high school and volunteered and was the member of clubs and all of that great stuff. I got into a good university and worked hard. I took a language course, took things that I loved. I worked through my degree - I was even a janitor in a building that I lived in, because I needed the cut in rent. I did that for no pay.

After these months of unemployment I have fallen into a pretty major depression. I live at home, I do chores, I look for work. As much as I want to get my life together, I have some great mental health issues to deal with - but have neither the money to purchase medication that may help me, nor the ability to pay for psychological or psychiatric help.
So what can be done?
Well, someone could wave a magic wand and fix the U.S. economy, but we all know that is not going to happen.
In fact, there is all kinds of evidence that the U.S. economy is about to get even worse.
So should we just tell our young people that they might as well just give up and start making rap videos about using food stamp cards like this one?  (*Warning* The video contains some very strong language.)
The number of Americans on food stamps has increased by 74 percent since 2007.  Millions of young people are learning that the only way to survive is to be dependent on the government.
It certainly does not help that our entire education system is deeply broken.  For example, did you know that the verbal scores on the SAT for the class of 2011 were the lowest ever recorded?
Our students have become so "dumbed down" that large numbers of them can barely even function in society once they graduate.
That is not their fault.
That is our fault.
We have failed young Americans in so many ways that it would take a series of books to detail them all.
We can say that we are sorry, but that just isn't going to cut it.
Millions of young Americans want what was promised to them, but we no longer have it to give to them.
Anger in this nation is already starting to boil over in strange and unpredictable ways.  If the economy gets even worse, we are going to have tens of millions of young Americans that are mad as hell and that are ready to riot in the streets.
What are we going to do then?
According to a recent Gallup poll, 81 percent of Americans are "dissatisfied with the way the nation is being governed".
That is not a sign of a healthy nation.
The sad truth is that the foundations of America are crumbling and we have millions upon millions of young people that are incredibly angry and incredibly frustrated.
It does not take a genius to figure out that is a recipe for disaster.
================================================================
Wage pic source: http://cdn.front.moveon.org/wp-content/uploads/2012/03/MWoriginal.jpg
================================================================
The new Barter System is emerging. Here is some Zeta Talk on it:
Dropping Dollar
Barter Systems: http://zetatalk.com/transfor/t109.htm
"In that one's skill sets can be considered a bartering item, one should examine their own skill set by the following exam. If you were in the middle of a wilderness, alone, what steps would you take to survive? What is the first skill that you would need, and not have? Whom do you know that you would wish about you, in such as circumstance? What is that skill that they possess, that you perhaps could develop? Imagine a group in such a setting, having arrivedat a land dump where various pieces of junk are about and could provide mechanical devices or shelter, if utilized creatively and resourcefully. How would you go about creating a comfortable home for yourself, and others, in such as situation? If you are clueless on how to use junk to structure a home, recycle and hook up, then perhaps you should work with a junk man, in his yard, and take lessons! What we are
telling you is that you should mentally put yourself in this setting, and you will have no difficulty determining what is useless or most worthwhile, in a skill set. If you are an accountant, and cannot translate this skill into
becoming a tailor or herdsman or cook, your skill is useless!"

Barter System to replace money in some regions: http://www.zetatalk.com/newsletr/issue119.htm
"We advise the common man, as we have in the past, to relieve
themselves of stock and jewels and paper money that will fall in value, perhaps suddenly and without warning. Better to stock up on things that will have value, candles and matches, school books and a guitar, than what the rich treasure."
Paper Promise: http://www.zetatalk.com/index/zeta156.htm
"During the Great Depression, the world was not beset with natural disaster after natural disaster, as is starting to occur today. Commerce, trade, was reduced due to lack of confidence but at the base, the economies were solid and recovery followed renewed confidence. Today, all countries are in a crisis affecting their base economies. We mentioned that Crop Failure would follow the irregular weather, and it did. But buildings collapsing in earthquakes, trains running off suddenly twisted tracks, factories exploding as gas lines breach, and storms tearing at coastlines without remorse do more than represent an opportunity to rebuild."
ZetaTalk Prediction 7/30/2011:
http://www.zetatalk2.com/ning/30jy2011.htm
We have mentioned that the status quo is likely to be continued up to and even into the Last Weeks, as those who benefit from the status quo see no alternative for themselves. Bankrupt countries will continue to print money, devaluing their dollars, as the alternative is to declare bankruptcy, making their money virtually worthless. This attitude extends to corporations and the banking industry, where their failure is a specter too gruesome to contemplate, envisioned as making matters worse, so they are pumped up with loans or legislation to avoid failures and layoffs. It is the lack of alternatives that drives the process. This is a global issue. All are likely to stumble forward thus, maintaining the status quo, until the public has switched entirely to the barter system as the only medium of exchange that has any meaning.
-------
In the Aftertime, the barter system will be the way of exchange as money will no longer exist. To make a gradual adjustment, it may be helpful to discuss it here if you like. Got any ideas on how to not get burned? How does one get the most out of the barter? Bartering is a skill that gets better with time. It is not our current system, so it must be understood so that it will work comfortably every time.
Got anything to share? What skills or trades work best in an Aftertime environment? How about what can be traded NOW before the 7 completes or before the PS?????
Showing the economic changes for better or worse may also be helpful to put things in perspective. Just as flooding of rain water is happening worldwide, economic statistics are SOARING for unemployment, bankruptcies, home foreclosures worldwide. Feel free to share input on that!
Rick Rickster