References: Earthquake data [1]
ZetaTalk Prediction 4/15/1999: You're going to have increasing earthquake tremblers. This will be defused by the media which will fail to report them.
ZetaTalk: Christmas Hammer 12/21/2007: Great quakes that affect the globe in its entirety must first occur at one of the brake points in the global mesh of plates. For the Earth, this is primarily the point where the Indo-Australian plate dives under the Himalayas.

ZetaTalk: Hawaii: Hawaii is steadily rising now, after every major quake in the vicinity. As we explained, the Pacific is not one plate but at least four, and both the Hawaii Islands and the Society Islands are being raised on the western edge of a the Pacific Plate portion that is subducting under the West Coast of N America.

Tectonic activity increased significantly in Hawaii. The eruption of the volcano is accompanied by the appearance of new cracks from which the lava flows. Thousands of small earthquakes hit Hawaii. Although in itself the volcanic eruptions in Hawaii is not a new event. The large earthquake that shocked Hawaii points to some uniqueness of this event.
Steam rises from a fissure on a road in Leilani Estates subdivision on Hawaii's Big Island on May 4, 2018. - Up to 10,000 people have been asked to leave their homes on Hawaii's Big Island following the eruption of the Kilauea volcano that came after a series of recent earthquakes. FREDERIC J. BROWN / AFP/GETTY IMAGES. Image source: cbsnews.com
The strength of this earthquake is what is remarkable. This is largest earthquake since 1975 and second-strongest ever in Hawaii. [2]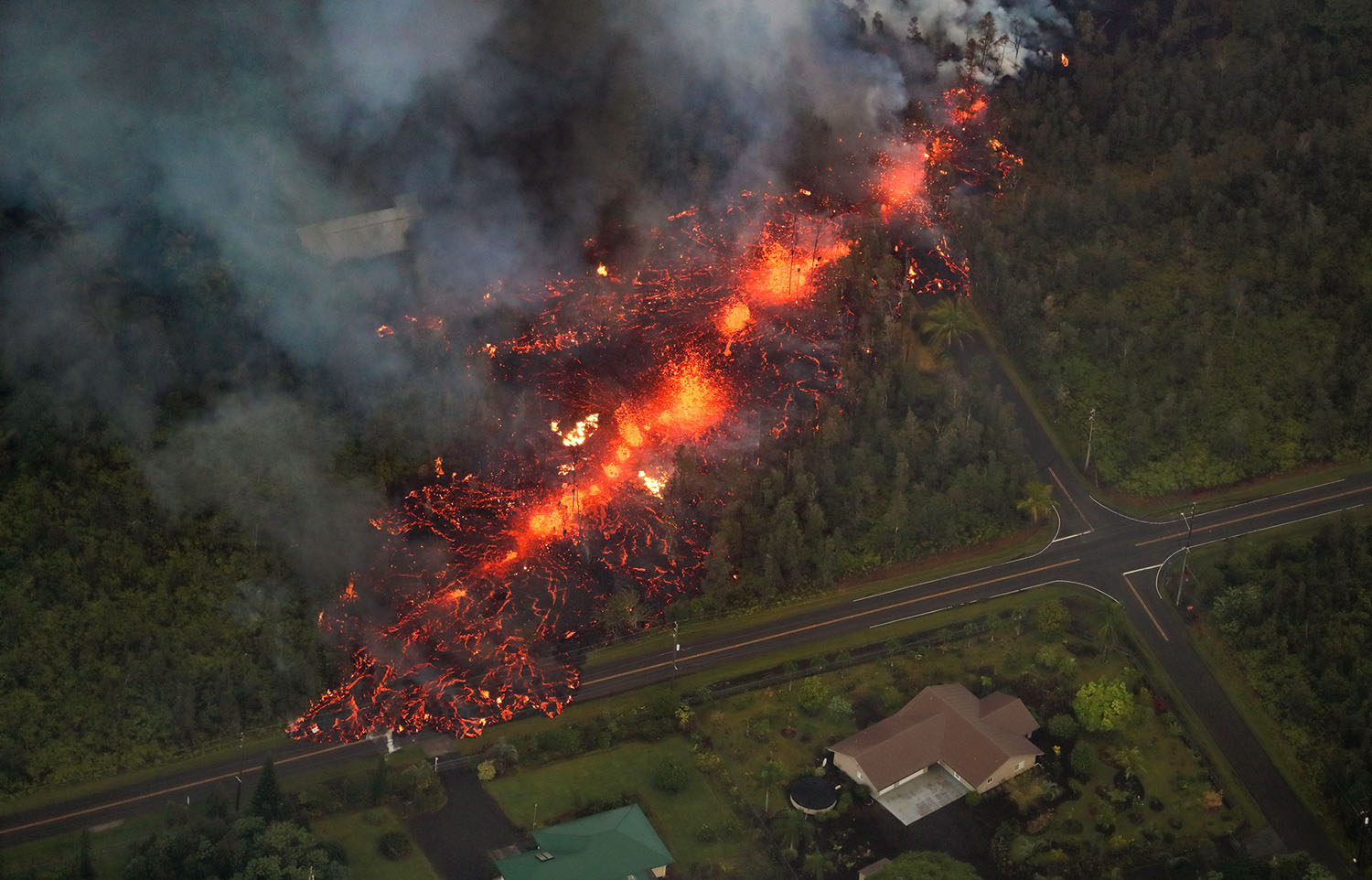 A 2,000-foot-long fissure erupts within the Leilani Estates subdivision, on the east rift zone of the Kilauea volcano threatening homes of hundreds in Hawaii, on May 5, 2018. Bruce Omori / Paradise Helicopters / EPA-EFE / REX / Shutterstock. Image source: nytimes.com
Kilauea volcano active since 1983. And it constantly erupts and there is nothing unusual about it.
An ash plume at the Kilauea volcano on Friday on Hawaii. The governor declared a local state of emergency near the volcano after it erupted and prompted the evacuation of residents.CreditU.S. Geological Survey, via Getty Images. Image source: nytimes.com
"5 May, 2018. Hawaii rocked by strongest quake in 40 years as Kilauea volcano sparks fountains of lava
A series of fresh earthquakes on Friday, including a powerful magnitude 6.9, hit Hawaii's Big Island, where the Kilauea volcano has been spewing fountains of lava into residential areas and forcing hundreds to evacuate. The US Geological Survey (USGS) said the strongest tremor at 12.32 pm measured 6.9, the island's largest earthquake in more than 40 years.
The Pacific Tsunami Warning Centre said the quake, whose epicentre was on the south flank of the volcano, was not large enough to cause a tsunami although it generated sea level changes around the island of up 40 cm. - [1] writes telegraph
---
Hawaii
References: Earthquake data [2]
These earthquakes were caused by volcanic activity:
"5 May, 2018. Multiple new vents, from which lava is spurting out of the ground, formed in the same residential neighborhood where molten rock first emerged Thursday. At midday, a magnitude 6.9 earthquake struck—the biggest of hundreds of quakes this week and the largest to strike the state in 43 years. Residents were also warned to watch out for dangerous levels of sulfuric gas.
Hawaiian Volcano Observatory spokeswoman Janet Babb said the earthquakes reflected the volcano adjusting to the shifting magma.
"The magma moving down the rift zones, it causes stress on the south flank of the volcano," Babb said. "We're just getting a series of earthquakes."" [4]
References: Earthquake data [2]
Hundreds of earthquakes shook Hawaii this week
References: Earthquake data [2], [3]
One of them was a record in 40 years.
---
2012 Kermadec Islands eruption
But this is all nothing compared to this news:
"15 January, 2018. We All Nearly Missed The Largest Underwater Volcano Eruption Ever Recorded
Image source: thetimes.co.uk

"We knew it was a large-scale eruption, approximately equivalent to the biggest eruption we've seen on land in the 20th Century," says volcanologist Rebecca Carey from the University of Tasmania, who's co-led the first close-up investigation of the historic 2012 eruption.
The incident, produced by a submarine volcano called the Havre Seamount, initially went unnoticed by scientists, but the floating rock platform it generated was harder to miss.
Back in 2012, the raft – composed of pumice rock – covered some 400 square kilometres (154 square miles) of the south-west Pacific Ocean, but months later satellites recorded it dispersing over an area twice the size of New Zealand itself. 
Scientists used deep search vehicles to map the eruption and collect samples. WOODS HOLE OCEANOGRAPHIC INSTITUTION. Image source: thetimes.co.uk
Under the surface, the sheer scale of the rocky aftermath took scientists aback when they inspected the site in 2015, at depths as low as 1,220 metres (4,000 feet).  
It may have been (thankfully) buried under an ocean of water, but for a sense of scale, think roughly 1.5 times larger than the 1980 eruption of Mount St. Helens – or 10 times the size of the 2010 Eyjafjallajokull eruption in Iceland. With samples collected by the submersibles yielding what the scientists say could amount to a decade's worth of research, it's a huge, rare opportunity to study what takes place when a volcano erupts under the sea – a phenomenon that actually accounts for more than 70 percent of all volcanism on Earth, even if it's a bit harder to spot.
"Underwater eruptions are fundamentally different than those on land," says one of the team, geophysicist Michael Manga from UC Berkeley. "There is no on-land equivalent."" [5]
The eruption occurred in July 2012 near New Zealand, while in April in the Indian Ocean there was an unusual earthquake with magnitude 8.6 (largest strike-slip earthquake ever recorded). Coincidence?
Conclusion:
Of course volcanic activity in Hawaii is not new. What is worth paying attention to is seismic activity. The earthquake that shook Hawaii is remarkable and record.
This photo provided by Shane Turpin shows results of the eruption from Kilauea Volcano on Hawaii's Big Island Friday, May 4, 2018. The eruption sent molten lava through forests and bubbling up from paved streets and forced the evacuation of about 1,500 people who were still out of their homes Friday after Thursday's eruption. (Shane Turpin/seeLava.com via AP). Image source: phys.org
It's difficult to conclude what this means globally. By itself, this earthquake of course does not mean anything. But the earthquakes in Mexico, Korea and Botswana also adds "weight".
References:
[1] Staff, R. S. (2018, May 05). Hawaii rocked by strongest quake in 40 years as Kilauea volcano sparks fountains of lava. Retrieved May 6, 2018, from https://www.telegraph.co.uk/news/2018/05/05/hawaiis-kilauea-volcano...
[2] https://earthquake.usgs.gov/
[3] https://earthquake.usgs.gov/learn/topics/calculator.php
[4] Jones, C., & Garcia, M. (2018, May 5). Hawaii's Kilauea volcano jolts with lava, quakes and gas. Retrieved May 6, 2018, from https://phys.org/news/2018-05-hawaii-kilauea-volcano-jolts-lava.html
[5] Dockrill, P. (2018, January 15). We All Nearly Missed The Largest Underwater Volcano Eruption Ever Recorded. Retrieved May 6, 2018, from https://www.sciencealert.com/almost-nobody-noticed-largest-underwat...