Gramalote

Colombia:
/ Three children killed by landslides in Colombia. Source /
23 April 2012

/ Landslides affect residents in Barrio San José Mine
The constant landslides have become one of the main problems affecting the sector resident San Jose Mine, located on the edge of a ravine in the community. Source /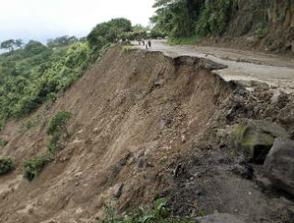 26 April. Source

30 April 2012. Source
2 May 2012.
/ At approximately 06:00 am on May 1, 2012 in the sector was presented Tucunaré sliding of the slope, causing partial collapse in two houses of the place. Source /
/ In Gramalote, Norte de Santander, 3,000 residents were evacuated because collapse of the village. Manual translation Source /

25 April 2012
/ Landslides in the vicinity of Bridge Guanábano. Source /
25 April 2012
/ Norte de Santander. Such was the damage that occurred on the site of El Oasis in the 104 km road from Bucaramanga to Cucuta is estimated that three-day road closed. Source /
21 April 2012

/ In the last 24 hours, because of landslides and rising rivers caused by heavy rains killed seven people in Colombia. In Ibague, two children died buried by a landslide. The children, who were brothers, were identified as Cameron Alexander, age 7, and Daniela Monsalve Avilez, 8, who were buried when a wall of the house fell on them. Source /
24 April 2012
/ Closure is recorded on the main roads of Antioquia, Caldas and Bucaramanga due to winter. Heavy rains were recorded in the last hours caused landslides that hit the main roads in three departments of Colombia. Stopped traffic on roads leading to Medellin, Manizales and Bucaramanga. /
/ For being right on a fault line, the Virgilio Barco neighborhood is sinking. Source /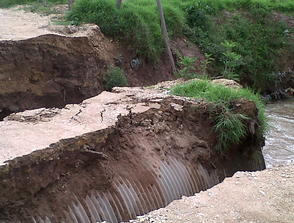 16 April 2012
/ Following heavy rain in the city of Duitama, bridge collapses Miracle neighborhood by increasing the aroma of the creek. Source /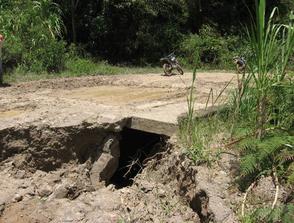 30 April 2012

/ Landslides blocked after heavy rains, as happened on several occasions in recent months, the land communication in this county in northern Huila. Source /
9 May 2012
/ Heavy rains caused a landslide in the area of Himalaya in the town of La Estrella. Source /
28 April 2012

/ One teenager dead, six missing persons and injured six others left a landslide that buried a group of houses in the High Cross Ash Township, north of Tolima. Source /
Venezuela:
24 April 2012

/ The collapse of the wall at Km 8 of the Junquito left 50 people affected. Source /

5 May 2012

/ Authorities shut down traffic completely over the road from Aguas Calientes, alternative pathway of Core 9, located on the west side of Anzoategui, because 50 meters of the road collapsed. Source /
14 April 2012
/ Residents of the building The Oriole, located on Avenida de Bello Monte Montesacro, slept with one eye open and one closed due to a landslide that was triggered on Monday. Source /

19 April 2012

/ Bridge collapse in Tariba,San Cristobal (Photos). Source /
19 April 2012

/ Collapsed bridge to San Cristobal with Tariba. Source /
26 April 2012
/ Three people were missing after collapse of the Colorado Canyon hill, at the El Laberinto, Jesus Enrique Lossada municipality of Zulia state. Source /

/ The bridge collapses Gomez in Tachira and reported a lower dead after rains. Source /
6 May 2012

/ Step through the northern part by the collapse of the bridge roadway in Rio Chiquito. Source /
5 May 2012. Carupano
18 April 2012
/ Another hill collapsed on the road Peracal-Rubio. Because of a landslide that occurred Wednesday morning at two kilometers from the community of Las Adjuntas, Bolivar Municipality, was completely closed vehicular traffic on the road between the checkpoint of Peracal and Rubio. Source /
4 May 2012

/ The collapse of border roads cause great uncertainty for the economic sectors and the general community of the border, since the transport of cargo and fuel only is open, although with much risk, the road Ureña-The-Fence Columbus. Source /
/ Much of the road between Piedra Gorda Timotes collapsed. Source /
14 April 2012 Source

Ecuador:
/ Zamora: A school collapsed in the rains Palanda Source /

23 April 2012
/ The road that connects San Isidro Zorca Providencia and San Joaquin ended up collapsing on Saturday in the morning. Source /
Mexico:
/ In the past eight months have seen 70 subsidence or sinkholes in colonies of the municipality of Ecatepec Mexico State, caused by the collapse of the old pipes. Source /

14 April 2012

/ Concern to the peasants of La Cuesta and Necoxtla, landslides along the road because there may be an accident with dire consequences. Source /

/ Faults affect more than 40 houses in the Capital

According to records of previous years, have accounted for more than 40 home-room with damage caused by the presence of geological faults in the Capital Potosi so soon begin the annual monitoring of the Municipal Civil Protection in coordination with the Institute Geology. Source /
Peru:
4 May 2012. Source

2 April 2012

/ The hill Tarcoy is cracked and the inhabitants of the town of Pomapata located Huasta district, province of Bolognesi (Ancash), are concerned about the danger this poses. Source /

05 March 2012
/ Moyobamba: 3 injured after collapsing bridge over the river Gera. Source /
6 May 2012
/ The road linking the districts of Villa Rica Oxapampa with now is totally abandoned and impassable even though a few months ago the Pasco Regional Government maintenance work performed leaving unfinished. Source /
30 April 2012
/ People Jamalca district in the province of Amazonas Utcubamba is alarmed because of landslides that have caused cracks in roads and homes, officials said. Source /
Guatemala:
15 April 2012

/ A landslide caused by rain could leave no way for the people living in villages The Jocotal and Los Hernandez, San Miguel Chicaj, Baja Verapaz. Source /
2 May 2012
/ Villages of Bellavista incommunicado after road collapse. Source /

Chile:
5 May 2012

/ The vehicular traffic Luperon Tourist Highway was disrupted after heavy rains that occur in the region provoke landslide at kilometer twelve, taking the entire stretch of the road.Source /