VERY EXTREME WEATHER in EUROPE
Storms hit the south of Bohemia, In Moravia fell temperature record

A very strong storm swept through South Bohemia. Most affected cities Prachatice, Budejovice and Cesky Krumlov. Because of flooded train tracks there are no trains running. Around half past six storms headed for the Highlands.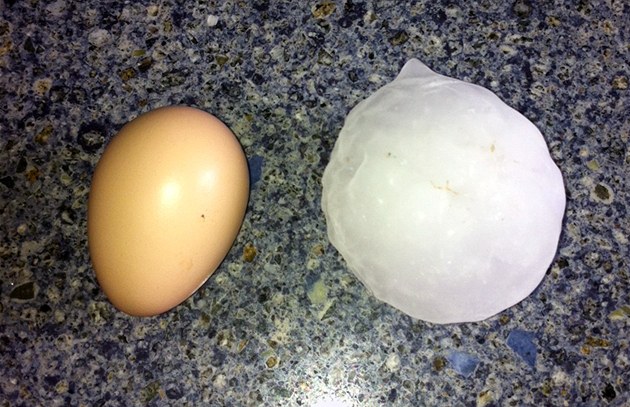 The picture above is the hail compared to an egg.
The hail had the size of a tennis ball, several people reported, the damage is huge, cars hit by hail were smashed.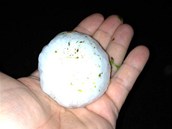 "Strong thunderstorms are crossing mainly in the Bohemian Forests.
In the affected areas south of the Czech Budejovice, Cesky Krumlov, and Prachatice estimated from radar fell sporadically around 60 mm of rainfall and hail.

At that moment the storm was over Jindřichohradecko and turned towards Pelhrimov. "The storms are very strong gusts of wind speeds of up to 90 miles per hour and hail," said meteorologist iDNES.cz.
The winds in southern Bohemia refuted trees, heavy rain again flooded the railway line between Higher Brod monastery and ponds. Lot of water pulled rocks on it's way.
The Klatovy firefighters had to handle fires from lightning. "We had seven cases of fire from lightning" said the managing ČTK  of the Czech firefighters. They helped with pumping water or removal of trees in Klatovy Janovice and Nyrsko.
On the contrary, Moravia had temperature records.
In Moravia, the situation was different, there fell temperature records. The highest temperature recorded at Strážnice in Moravia (35.7 ° C), which beats the record of 1999. Total maximum temperatures were measured at twenty stations.
I translated the whole article from the Czech language
The weather forecast shows more storms coming.. I'll keep you posted
http://zpravy.idnes.cz/bourka-v-jiznich-cechach-0wl-/domaci.aspx?c=...