7 of 10 New Madrid Adjustment & Bending of North America past month

3 May Florida U.S. A second home was evacuated overnight near the scene of a 100-foot sinkhole that opened Thursday in the Windermere area. Source

12 May, Florida, U.S. Jonesville-area The 80-foot-long and 40-foot-wide sinkhole began appearing on Friday. Source

22 May, Canada. A four-metre square sinkhole opened up in a major downtown Montreal street just hours after a massive student protest had marched over it. Source

18 May. 50 Sinkholes On Davenport Streets. Dorothy Meeke woke up last week to find this 18-foot hole in front of her house. She says no one was around when the ground sunk in, but it was a close call. Source

17 May, Canada, Winnipeg. Winnipeg city crews closed part of William Avenue on Thursday night due to a sinkhole in the roadway. Source

10 May, U.S. AL. Franklin County sinkhole raises concerns with citizens. Franklin County citizens expressed concern over a growing sinkhole in a residential area. Source

2 May, U.S. MI. It's a nearly seven foot-deep sinkhole that's grown larger over the years, especially after heavy rainfall.  It lies near the road of Vickie Johnson's property and she said It is causing havoc off Hogarth Avenue in Flint Township. Source

5 May, U.S. CA. Hacienda Boulevard was blocked in La Puente Sunday after a broken water main opened a gaping sinkhole in the roadway, officials said. Source

24 May U.S. MA. City police are cautioning motorists to avoid Sheridan Street in the vicinity of Dewey Street, which will be closed Thursday morning as crews attempt to address a large sinkhole in the roadway. Source
13 May U.S. OR. A dog was rescued, dirty but not injured, from a sinkhole in a Northeast Portland yard Sunday morning, fire officials said. Source

5 May U.S. UT. A sunken area of Washington Blvd. during repaving work shut the street down temporarily Wednesday Source
26 May. U.S. CO. Massive crater alongside the road in between the cities of Black Hawk and Central City has traffic moving along a bit slower than usual after crews had to close a lane. The shaft is about 30 feet wide by 50 feet deep. Source
May 3. Canada. This sinkhole opened up Wednesday afternoon on Old Orchard Ave. in NDG (May 3, 2012). Source
26 May. U.S. VA.
21 May. U.S. PA.
9 May. U.S. NC. A sink hole has shut down a High Point roadway Wednesday afternoon. Source
3 May. U.S. WI. Source

10 May. U.S. CA. Source
24 May. U.S. Source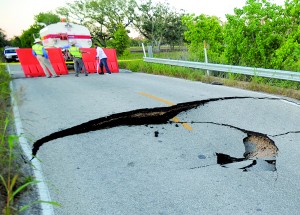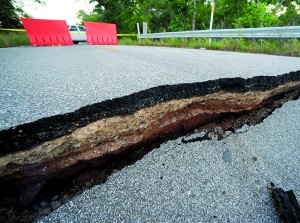 22 April. U.S. A bridge collapse on CR 304 on Saturday will prevent passage on the popular shortcut from Jones Creek to Lake Jackson for at least a few weeks, Jones Creek Marshal William Tidwell said. Source

26 April. U.S. Sections of two Winnipeg streets are closed as city crews work to repair sinkholes. Source

24 May. U.S. Colorado. A partial collapse of a bridge on Colorado Highway 12 west of Trinidad over the Purgatorie River has closed the highway. Source

--------------------------------------------

7 of 10 SINKING Sunda Plate
Vietnam SINKING:
Long Xueyn -
/ An Giang landslide incident with a length over 100 m, 15-25 m deep, to affect 11 households, three businesses and office clusters.
He is still rich households have a home in the landslide area, said the previous night 25-5, in the area has 3 heavy rainfall. Then, when awake, he heard noises Rich by nearby houses collapsed. Immediately after, a body shop ice-walled home he sank slowly down the Hau River. Cabin and three graves of his loved ones nearby also torn rich background and may fall into the river at any time. Source /

/ morning 26-5 happen in a large avalanche Long Xuyen (An Giang). Many houses collapsed into the river or affected by an emergency relocation. Many people have been poured down the Hau River At the scene, the Hau River in the third, first colonized Thoi Binh, Binh Khanh broken foot and a period longer than 110m, going deep into the coast 16 - 25m Source /

TP. Vinh -
/ TP. Permanently under water. Heavy rains that lasted for nearly an hour making 5.25 pm on the city streets. Vinh (Nghe An) immersed in sea water Source /
/ Torrential rains, Ha Noi immersed in sea water Source /

Near 19h30, heavy rains pouring down in Hanoi
Nui Truc Street quickly turned into a "river"
Submerged cars because of time taken on the
Many business household belongings packed in a hurry to see the high water
Use everything to prevent the flooding
Many families could not respond before the torrential rain as
The high water overflow into the
Many customers are worried about eating in the restaurant unexpectedly heavy rains
In addition to the road, many drivers "risked" across the big water
Car breaks down that owners are struggling to take me
Opposite direction that the vehicle stalls, many drivers do not dare to go forward
Waves on the surface ... the
Hovers up fast water on Thai Ha Street

Giang Vo street, sewer workers do their best to drain away, but not in
Thai Ha street after the rain at 22/5
Thai Ha street after the rain at 22/5

Nearly 11 rain was sweet, but a lot of car stalls a lift to the rescue (at port Keangnam)
No Chi Minh -
Thailand SINKING: