Pictures: Top Ten Nuclear Nations' Quake Hazard
1. United States: Coastal Concern
This story is part of a special series that explores energy issues. For more, visit The Great Energy Challenge.
Annual U.S. nuclear generation: 798.7 billion kwh (kilowatt-hours)
Japan's Fukushima Daiichi crisis has raised questions around the world on the earthquake hazard in countries that rely heavily on nuclear power. As it turns out, the seismic threat varies widely in the top ten countries generating electricity by fission.
Although the United States has not built a new nuclear power station since the 1979 accident at Three Mile Island, it is far and away the world's largest nuclear power producer. Its 104 reactors produce more electricity than all the nuclear plants in the next two nations—France and Japan—combined. But because U.S. electricity use is so prodigious, all those nuclear plants provide only 20 percent of the total.
Given the map of U.S. earthquake hazard, it's no surprise that California's two nuclear power plants are the ones that have raised the most political concern in the wake of Japan's crisis. San Onofre, in San Clemente, and Diablo Canyon, in Avila Beach, are located right on the coast, near active faults.
Earthquake hazard in this area of the West, where the North American tectonic plate meets the Pacific plate, is about five times greater than the earthquake hazard in the eastern half of the United States, says seismologist Seth Stein, of Northwestern University's Department of Earth and Planetary Sciences. He is author of the recent book, Disaster Deferred, on how new science is changing views of earthquake hazards in the Midwestern United States. As the book explains, there is some seismic hazard in the central and eastern part of the country, where the vast majority of U.S. nuclear reactors are located. Damaging earthquakes have occurred near Charleston, South Carolina; Boston, Massachusetts; and New Madrid, Missouri.
Long before the Fukushima crisis, U.S. energy and nuclear regulators and the Electric Power Research Institute—the industry nonprofit group—were working on a new seismic source characterization for the central and eastern United States. It's expected to be completed later this year.
There are no nuclear plants in Alaska, the U.S. state that has the most earthquakes.
—Marianne Lavelle and Barbara Mulligan
2. France: Heavy Reliance on Nuclear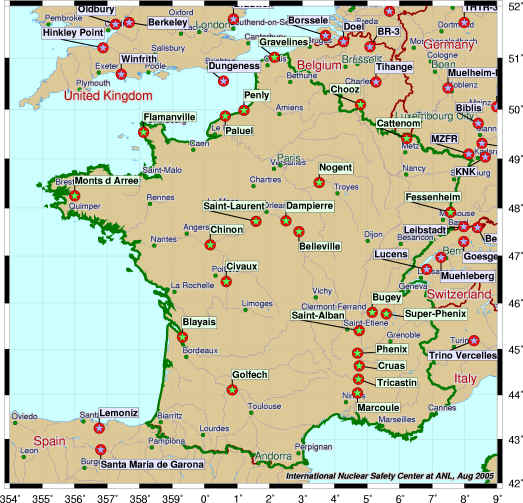 Annual French nuclear generation: 389.3 billion kwh
The wind turbine above the cooling towers at France's Cruas nuclear plant in the Rhône River valley near Montélimar is only one of the structures that makes the site unique. The power plant, built in the early 1980s, is one of only two nuclear power plants in the world built with "seismic base isolation," flexible devices at the base that absorb vibration. Each reactor sits on more than 1,800 neoprene pads, each several inches thick. (The other such plant is near Cape Town, South Africa.)
Even though the total amount of energy France generates from atomic stations is less than half the amount generated in the United States, no other country relies as heavily on nuclear power. More than 80 percent of France's electricity comes from 58 reactors in 19 power plants.
Earthquake hazard in France is not large, says Stein. Most of the country has little, and even the most active region has hazard comparable only to that of the eastern and central United States.
Although the Cruas plant has special earthquake protection, it is not in the most seismically active area of France. That would be along the Rhine River valley along the German border, says Stein. The fault system that runs down that valley produces some earthquake hazard in France, Germany, Belgium, and the Netherlands, he says. Among the nuclear plants closer to that region is Fessenheim station on the Rhine, the oldest nuclear power plant in France.
A global picture of seismic hazard can be seen on the map developed by the Global Seismic Hazard Assessment Program, which Stein says was an effort undertaken a decade ago to harmonize differing nations' ways of measuring earthquake hazard and show a worldwide picture of what is known.
3. Japan: From Hazard to Crisis
Japan's annual nuclear generation: 265.8 billion kwh

Although it is now scene of one of the world's worst nuclear crises, the Fukushima Daiichi plant, seen here in October 2008, once was part of a fleet that exemplified the promise of fission for an energy-hungry nation.
(Related Pictures: A Rare Look Inside Fukushima Daiichi Nuclear Plant)
(Related Story: "Japan Tries to Avert Nuclear Disaster")
Despite its experience as the only country to endure a wartime nuclear attack, Japan two decades later turned to the so-called "peaceful atom" to help power its economic growth. With little in the way of domestic fossil fuel sources, and forced to import virtually all of its oil, coal, and natural gas, the island nation came to view nuclear power was a way to produce large amounts of electricity domestically. And since its first commercial nuclear power plant began operation in 1966, Japan has built up a program of 54 reactors, including the largest one in the world: Kashiwazaki-Kariwa in the Niigata prefecture on the west coast.
Nuclear energy has been providing one-third of Japan's power, and before the Fukushima accident, the nation had plans to expand that share to 40 percent by 2017 and to 50 percent by 2030.
As a network of islands on the boundaries of four major tectonic plates, Japan is among the world's most earthquake-prone nations. And, significantly, Japan has a population of 126.5 million in this zone of seismic hazard. (Stein notes that Alaska has a similar level of seismic hazard, but fewer than 700,000 people live there.)

All of the nation's nuclear power plants, of course, are within the danger zone.

Nuclear industry representatives and opponents of nuclear power are quick to point out that it was the failure of diesel backup power generators in the wake of the tsunami, not the shaking produced by the earthquake, that directly triggered the Fukushima crisis. Industry officials have pointed out that the plants survived the shaking from one of the largest earthquakes on record, thus performing as designed.

Others are less sanguine, noting that power outages are an even more common hazard in times of natural disaster and even less dramatic events. In the United States, for example, "while many of our power plants won't be subject to the one-two punch of a hurricane and tsunami, we are more vulnerable for the situation where we lose power and backup, whether it's because of a hurricane in the Gulf, an ice storm in the Northeast or a tree in Cleveland," said David Lochbaum, director of the Union of Concerned Scientists' nuclear safety program.
4. Russia: Aspirations for Nuclear
Russia's annual nuclear generation: 154.9 billion kwh
Cucumber plants thrive in a greenhouse in Siberia, thanks to the heat output of Russia's most remote nuclear power plant, Bilibino, located about 100 miles (161 kilometers) north of the Arctic Circle in Chukotskiy autonomous region.
Russia has had aims to expand its nuclear power for reasons quite opposite that of Japan. The sprawling nation has huge fossil resources, including the largest proven natural gas reserves in the world, but Moscow would like to increase its exports of those. Shifting more Russians to nuclear power and away from natural gas, which is heavily subsidized by the state, would allow Russia to generate more revenue by selling the gas abroad.
So Russia, which now derives 16 percent of its electricity from 32 nuclear reactors at 10 locations, has plans to expand that share to 25 percent by 2030. Except for Bilibino's four small reactors in the far east, all of Russia's nuclear power plants are west of the Ural Mountains. They are closer, in other words, to Russia's population center, which also happens to be an area of low earthquake hazard.

But there is one nuclear power plant now under construction that is scheduled to be opened in Russia's most seismic region, the Kamchatka peninsula northeast of Japan. Russia's aim is for the facility, the Akademik Lomonosov, to be the world's first civilian floating nuclear power station. Expected to be completed by 2013, it would be moored at the closed city of Vilyuchinsk (named after a nearby volcano), which is a base for Russia's Pacific nuclear-powered submarine fleet. But Russia's purpose in building what it hopes will be several floating nuclear stations is not to keep them in dock but to have them travel to remote parts of the Arctic to power planned oil and gas extraction operations.
5. South Korea: Fast-Building Latecomer
Photograph by Lee Jin-man, AP
Annual Nuclear Generation: 140.4 billion kwh
A worker measures the radioactivity of drums containing waste at Yonggwang nuclear power site south of Seoul, one of Korea's young fleet of nuclear generating stations.
South Korea was a relative latecomer to nuclear power—starting up its program only one year before the Three Mile Island accident. But since its first plant was completed in 1978, it has built 21 reactors at four power stations that provide more than one-third of the nation's electricity. Twelve more reactors are planned by 2022. One of the world's fastest-growing developed countries, Korea's goal is to generate half its power from nuclear energy.
Like Japan, South Korea has virtually no fossil fuel resources, so nuclear power has enabled the nation to produce large amounts of electricity domestically. But even though the Korean peninsula is just northwest of the southern tip of Japan, South Korea's earthquake hazard is considered low, says Stein.
6. Germany: A Controversial 'Bridge'
Germany's annual nuclear generation: 128.2 billion kwh
Unterweser nuclear power facility, near Kleinensiel (map) which opened in 1978, is one of seven older plants that the German government ordered closed for at least three months for safety checks in the wake of the Fukushima Daiichi crisis.
(Related blog: "Eyeing Japan, Countries Reassess Nuclear Plans")
Although Germany's 17 nuclear power plants provide about a quarter of the nation's energy supply, their future has long been clouded with controversy.
Germany's Green Party and Social Democrats made a deal a decade ago to phase out nuclear energy entirely by 2022. But Chancellor Angela Merkel reversed that decision last fall. Invoking the need for nuclear as a "bridge technology" to take Germany to a renewable energy future, her government said it would aim to prolong the life of the power plants--a decision that was met with protest. Now, Japan's nuclear crisis has prompted Germany once more to rethink its nuclear future.
According to Stein, Germany's most seismic area is along the Rhine River valley. Several of Germany's stations are located near the Rhine, including its oldest operating nuclear facility, the Biblis station, now among those now shut down.
7. Canada: Nuclear Pioneer in the North

Canada's annual nuclear generation: 85.9 billion kwh
The huge turbine hall in the Bruce Power LP station on Lake Huron in Tiverton conveys the size of Canada's commitment to the atom; the facility boasts the largest output of any nuclear plant in North America.

Canada began its nuclear program as early as 1944 and built its first experimental  reactor in 1947. Overall, the nation derives about 15 percent of its electricity from 18 commercial reactors. But dependence on nuclear is far greater in Canada's most populous province. Ontario, home to the capital of Ottawa, has 16 of the existing reactors (including Bruce Power), and derives 53 percent of its electricity from nuclear power. The other two nuclear units are also in the east, in Quebec and New Brunswick.

The area known for the greatest seismic activity in Canada is in the far western portion of the country—the coast of British Columbia. And even though Canada has been planning to build as many as nine new reactors over the next 10 years, it is not likely that this region would be eyed as a potential site. British Columbia has a detailed clean energy plan that includes as one of its tenets no nuclear power.

But the east coast is not immune from seismic hazard. Stein notes that the only Canadian deaths ever associated with an earthquake were 28 casualties after a tsunami struck the Burin Peninsula, following the 7.2 earthquake on November 18, 1929, with an epicenter about 155 miles (250 kilometers) south of Newfoundland. The only nuclear power station in Atlantic Canada is the Point Lepreau station on the north shore of the Bay of Fundy in New Brunswick.

Some earthquake hazard also exists in the Saint Lawrence River valley. This is the site of Hydro Quebec's Gentilly plant, on the river's south shore in Bécancour, which has been the focus of political tension since the crisis began in Japan. Hydro Quebec had planned a $2 billion upgrade to extend the life of the single remaining operating reactor, but opponents are demanding the government-owned power corporation also price out the cost of mothballing the facility.
8. Ukraine: Legacy of Disaster
Ukraine's annual nuclear generation: 78.8 billion kwh
The past and future of nuclear power can be seen together in Ukraine. At Khmelnitsky Nuclear Power Plant, two units are operating and two more are slated to be built by Russia's atomic energy company, Rosatom.

But Ukraine will always be known for its first power plant, begun in 1970 and commissioned in 1977, at Chernobyl, site of the worst nuclear accident in history. The 1986 reactor explosion killed some 30 people, caused a fire to burn for 10 days and left tens of thousands of square miles contaminated.

(Related: "How Is Japan's Nuclear Disaster Different?")

Twenty-five years later, nuclear power remains important here, with about half of the Ukraine's electricity generated by 15 nuclear reactors at four locations. The construction of two large new reactors at Khmelnitsky is aimed at maintaining nuclear share's in electricity production to 2030, as the nation's overall power demand increases.

Seismic hazard is considered low in most of the Ukraine, according to Stein. The area that some geologists have identified as an area of earthquake hazard is the Carpathian Mountains near Romanian border. None of the nuclear stations are located there.
9. China:Ambitious Nuclear Plans
Annual nuclear generation: 66.6 billion kwh

This 180-ton rotor, shown here last year just after fabrication at a steam turbine plant in China's Sichuan province, soon was spinning inside China's first 1,000-megawatt nuclear power plant. Unit 3 at the Ling'ao nuclear plant on the Dapeng peninsula in Guangdong, which opened last July, is still the largest reactor in China but it won't be alone for long. More than 27 new nuclear plants are now under construction in China, most of them this size or larger.

China already has 13 operating nuclear power plants, but together they provide only one percent of electricity to the world's most populous nation, which remains heavily dependent on coal. The Chinese government was aiming to increase nuclear's share in power generation sharply. Many of the planned plants are being built in the nation's rapidly developing eastern coastal areas, which have limited access to other power sources. Four of those planned reactors would be the first in the world with so-called Generation III-plus technology, with "passive safety" systems designed to continue cooling operation for 72 hours in the case of a power outage.

(Related: "Would a New Nuclear Plant Fare Better than Fukushima?")
China is a country with large seismic hazards, says Stein, because the plate beneath India is pushing northward—a geological force that created the Himalayas and causes large earthquakes in a broad area spanning Pakistan, India, and Nepal, and continuing into Tibet and China. "Think of India like a fist going into the soft clay of Asia," says Stein, who notes that some of the most destructive earthquakes in world history have occurred in China. Large quakes in recent years struck the Sichuan and Qinghai provinces in the interior and west, far from the nuclear developments on the east coast.
10. United Kingdom: A Nuclear Legacy
The United Kingdom's annual nuclear generation: 65.7 billion kwh
The Heysham nuclear power station on Morecambe Bay in northwestern England, with four reactors that opened in the 1980s, is one of eight locations the British government has identified as potential sites for new nuclear developments.
United Kingdom currently derives about 18 percent of its electricity from 19 nuclear power reactors in nine locations. The nation built so many nuclear stations in the 1950s and 1960s that it actually has more shut-down reactors—26—than operational ones. The United Kingdom has the only units still operating in the world that are considered early, Generation I design.
In 2008, the government announced its support for additional nuclear stations to meet projected energy needs, with plans to promote construction by 2025.
Earthquake hazard is considered low in Great Britain, says Stein.
NUCLEAR POWER PLANTS INFORMATION 

Operational & Long Term Shutdown Reactors by Country
Operational
Country
No. of Units
Total MW(e)
ARGENTINA
2
935
ARMENIA
1
375
BELGIUM
7
5926
BRAZIL
2
1884
BULGARIA
2
1906
CANADA
18
12569
CHINA
13
10058
CZECH REPUBLIC
6
3678
FINLAND
4
2716
FRANCE
58
63130
GERMANY
17
20490
HUNGARY
4
1889
INDIA
20
4391
JAPAN
54
46821
KOREA, REPUBLIC OF
21
18698
MEXICO
2
1300
NETHERLANDS
1
482
PAKISTAN
2
425
ROMANIA
2
1300
RUSSIAN FEDERATION
32
22693
SLOVAK REPUBLIC
4
1816
SLOVENIA
1
666
SOUTH AFRICA
2
1800
SPAIN
8
7514
SWEDEN
10
9298
SWITZERLAND
5
3263
UKRAINE
15
13107
UNITED KINGDOM
19
10137
UNITED STATES OF AMERICA
104
100747
Total:
442
374996


The following data is included in the totals:
No. of Units
Total MW(e)
TAIWAN, CHINA
6
4982
---

Long Term Shutdown
Country
No. of Units
Total MW(e)
CANADA
4
2530
JAPAN
1
246
Total:
5
2776
NUCLEAR POWER PLANTS INFORMATION 

Under Construction Reactors by Country 
Under Construction
Country
No. of Units
Total MW(e)
ARGENTINA
1
692
BRAZIL
1
1245
BULGARIA
2
1906
CHINA
27
27230
FINLAND
1
1600
FRANCE
1
1600
INDIA
5
3564
IRAN, ISLAMIC REPUBLIC OF
1
915
JAPAN
2
2650
KOREA, REPUBLIC OF
5
5560
PAKISTAN
1
300
RUSSIAN FEDERATION
11
9153
SLOVAK REPUBLIC
2
782
UKRAINE
2
1900
UNITED STATES OF AMERICA
1
1165
Total:
65
62862


The following data is included in the totals
| | | |
| --- | --- | --- |
|   | No. of Units | Total MW(e) |
| TAIWAN, CHINA | 2 | 2600 |