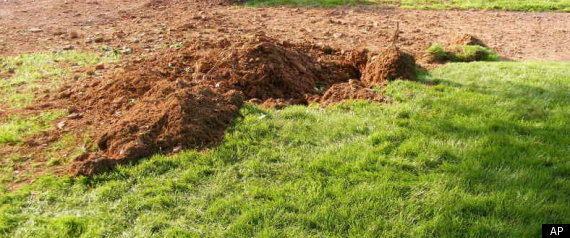 What caused this crater in suburban New Jersey? A meteor? Explosives? Experts can't say.
Scientists and police have visited the yard of a Basking Ridge homeowner to attempt to figure out what ripped a hole in the ground and scattered debris across a 100-... on May 8, the Associated Press reported.
The hole is 18 inches deep and the size of a coffee table, according to Bernards Township Police Capt. Edward Byrnes.
"To me it looked like something blew out of the ground because the grass was folded back, the rocks and dirt were all spewn out into the cul-de-sac and across the driveway," said the owner, Sue, who didn't give her last name, because she didn't want crowds coming to gawk at the pit.
The director of the nearby Raritan Valley Community College planetarium inspected the mystery crater and concluded that a meteorite hadn't struck the area.
"It's just really, really weird," said planetarium director Jerry Vinski. "We dug around and couldn't find anything. We used metal detectors because all meteors have metal in them, and we couldn't find anything, large or small."
State police also ruled out explosives.